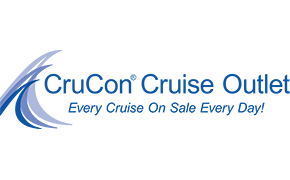 800-493-6609
8 Nights Caribbean - Eastern
departing from Charleston, South Carolina
Cruise Line
Carnival Cruise Line
Departing
Sat, Feb 17, 2024
Return Port
Charleston, South Carolina
Ports of Call
Charleston, South Carolina | St. Thomas, U.S. Virgin Islands | Philipsburg, St. Maarten | San Juan, Puerto Rico
Charleston, South Carolina
|
St. Thomas, U.S. Virgin Islands
|
Philipsburg, St. Maarten
|
San Juan, Puerto Rico
Prices starting from
Inside

Oceanview

Balcony

Suite

$889

USD

$111.13

USD

per day

$1,159

USD

$144.88

USD

per day

$1,819

USD

$227.38

USD

per day
Port charges of
$159
USD
included. Taxes and fees of
$136
USD
are not included.
Date

Date

Location

Location

Arrival

Arrival

Departure

Departure

Sat, Feb 17, 2024

CHARLESTON, SC DOCK

--

4:00 pm

Sun, Feb 18, 2024

FUN DAY AT SEA FUN AT SEA

--

--

Mon, Feb 19, 2024

FUN DAY AT SEA FUN AT SEA

--

--

Tue, Feb 20, 2024

ST. THOMAS, USVI DOCK

12:00 pm

8:00 pm

Wed, Feb 21, 2024

ST. MAARTEN, NA DOCK

8:00 am

5:00 pm

Thu, Feb 22, 2024

SAN JUAN, PUERTO RICO DOCK

8:00 am

5:00 pm

Fri, Feb 23, 2024

FUN DAY AT SEA FUN AT SEA

--

--

Sat, Feb 24, 2024

FUN DAY AT SEA FUN AT SEA

--

--

Sun, Feb 25, 2024

CHARLESTON, SC DOCK

8:00 am

--
Click on a port for more information
Vendor
Carnival Cruise Line
General
In a nutshell... we're all about fun vacations at sea and ashore! A Carnival cruise features day and nighttime entertainment like stage shows, musical performances, deck parties, casinos and more. (Like what? Like waterslides!) We invite our guests to come as they are, and we make everyone feel right at home with comfy staterooms, attentive service, casual and elegant dining, plus a variety of bars and gathering places indoors and out. Guests enjoy this unique experience against the backdrop of some of the world's most beautiful seaports.
Our 26 ships operate 3- to 24-day voyages, departing from every coast in the U.S., as well as Canada, Puerto Rico and Barbados. While we're best known for Caribbean cruises, we sail to other exotic and amazing destinations like Mexico, Alaska, The Bahamas, Europe, Hawaii and the Far East. Additionally, Carnival Cruise Line Australia now has three ships, and offers cruises from Sydney and Melbourne to New Zealand, the Pacific Islands and Singapore.
Carnival Cruise Line proudly supports important causes like St. Jude Children's Research Hospital.
Overview
Everything the sunlight touches on Carnival Sunshine has been doused with an extra dose of fun. There's plenty to find atop this ship, where you can spend your days being kissed by the warm rays of the sun. Visit the biggest Serenity area ever, featuring three decks, plenty of recliners... and even a waterfall. Carnival WaterWorks, our onboard waterpark, doesn't just deliver the favorites... this one debuted the slick Speedway Splash slide. There's also SportSquare, where you can let your inner champion run free (around the jogging track), traverse SkyCourse high up above, or even engage in a little one-on-one, from ping pong to foosball to giant chess.
When you're on your Carnival Sunshine cruise, step out of the sun and try out some shade (and it's some pretty cool shade, at that). The first thing you'll see is the Sunshine Atrium... and let's just say first impressions count. From there, check out dining options - this ship has everything under the Carnival sun - like Guy's Burger Joint, BlueIguana Cantina, Fahrenheit 555 Steakhouse and JiJi Asian Kitchen. Some of the greatest Carnival bars are here: RedFrog Pub, BlueIguana Tequila Bar, SKYBOX Sports Bar and Alchemy Bar... plus the already-classic Havana Bar! You'll enjoy musical revues from Playlist Productions, while Hasbro, The Game Show gets cruisers like you up on stage, competing in larger-than-life family favorites come to life.
When you find yourself between the Carnival Sunshine and some actual sunshine, fun at sea is guaranteed.
Bars and Lounges
Havana Bar
Step into the Havana Bar and enjoy an authencially Cuban experience as you cruise.
RedFrog Pub
Good beer, good tunes, good times. Welcome to the island-inspired ambiance of the Caribbean's chillest hangout. the red frog rum bar on carnival cruise lines.
Exclusive Carnival Brews
Yes-you can! Some of our most popular original beers are now available on every ship, in convenient cans.
Alchemy Bar
For the perfect antidote to all that pre-vacation stress, try a unique cocktail custom-concocted by our mix-masters.
BlueIguana Tequila Bar
Feel like a frozen tequila drink? How about an ice-cold Mexican beer? Grab a stool, amigo. This is where you wanna be.
Mixologist Competitions
Calling all cocktail captains: come mix it up, pour it over ice...and let's raise some spirits.
More Options:
Piano Bar
Alchemy Martini Tasting
Cheers!
SkyBox Sports Bar
Beer Station

RedFrog Rum Bar
Casino Bar
Cruise the vineyards
Entertainment
Playlist Productions

How about a show, to go? Our theater full of amazing musicals cruises along with you.
The Punchliner Comedy Club
Hope you packed your funny bone - our onboard comedy performances are designed to tickle 'em just right.
Hasbro, The Game Show
Your favorite board games come to life in this fun-for-all-ages game show extravaganza.

Piano Bar
Finally. A bar where singing along isn't just tolerated, it's strongly encouraged.
Live Music
Music lovers, listen up. Because our ships are rocking and rolling with some of the best bands at sea.
More Options:
Dive-In Movies
Karaoke

Nightclub
SkyBox Sports Bar
Outdoors
Serenity Adult Only Retreat
Serenity's the faraway place... that's actually quite close to it all.
WaterWorks
Built for some serious splashing.
SportSquare
At SportSquare, there's a game for you... and a champion inside of you.
Dive-In Movies
Settle in to a poolside lounge chair - or even the pool itself - as you take in a big-name movie under the stars.
Pools
For a cool day at sea, make it a pool day at sea.
SkyCourse
Accept the challenge? Strap in and take to the sky.

More Options:
Mini Golf
Jogging Track
Twister Waterslide
Basketball
SkyFitness

Kids, Teens, & Family
Seuss at Sea
Just you wait and see what there is to see at Seuss at Sea!
Hasbro, The Game Show
Your favorite board games come to life in this fun-for-all-ages game show extravaganza.
Zumbini
We're getting kids ages 2-5 moving - and having an amazing time. Every Carnival cruise now includes Zumbini!
Camp Ocean
At Camp Ocean, 2-11 year-olds stay busy, keep active and have fun as they enjoy all new ocean-themed activities in supervised, age-based groups.
Club O2
This is Club O2, the just-for-teens hangout on board Carnival.
Circle "C"
Welcome to the ultimate hot spot for guests ages 12 to 14. And with all this fun happening, they'll be LOLing in no time.
More options...
WaterWorks
Cherry On Top
SportSquare
Green Eggs and Ham Breakfast
Night Owls
Build-A-Bear Workshop at Sea
Seuss-a-palooza Story Time
Dive-In-Movies
Pools
Seuss-a-palooza Parade
ZSpa
Mini Golf
Video Arcade
Twister Waterslide
Basketball
Arts and Crafts
SkyCourse
Events
Mega Deck Party
A deck party this 'Mega' can only happen on a deck this 'Lido.'
Groove for St. Jude
Do good. Feel good. And help some kids - also good, right?
Holidays Aboard
Holidays are some of the greatest days...and definitely some of the best to be enjoying a cruise.
Sailaway Party
Get ready to have an absolute blast, from the moment we get going.
80s Night
Get, like, so totally stoked for this rad retro night at sea.

Casino
Carnival Players Club
Your Sail & Sign card is the key - play and earn special perks, private invitations and great offers.
Slots
On your next cruise, try your luck at one of our state-of-the-art slot machines!
Blackjack
There's great blackjack action - hit the tables.
Drinks On Us!
The secret to free drinks in the casino... is no secret at all.
Casino Bar
Finding a great drink here is never a roll of the dice.
More Choices...
Casino Prize Games
Casino Tournament
Poker
Scratch-Offs
Table Games
Dining
Guy's Burger Joint
Take a big juicy bite of one of the best burgers at sea, brought to you by none other than celebrity chef Guy Fieri.
BlueIguana Cantina
Head on down to our Mexican cantina, where the food is fresh an the atmosphere is fresher.
Cucina del Capitano
Sit down to a delectable family meal at an Italian countryside villa. In the middle of the ocean.
*Additional Charge
JiJi Asian Kitchen
Experience deliciously blurred borders as this across-Asia dining experience brings not only authentic food, but local traditions, to the table.
*Additional Charge
Steakhouse
Premium cuts and seafood are the centerpiece to this evening dining experience.
*Additional Charge
Dining Room
Three courses, no pretension. This kinda-fancy dining event brings a premium selection of food options (and fun!) to your table every night.
More Options:

Green Eggs and Ham Breakfast

Lido Restaurant
Swirls
24-Hour Room Service
Bonsai Sushi
The Chef's Table
Seaday Brunch
JavaBlue Cafe

Pizzeria del Capitano
Seatkhouse Selections
The Carnival Deli
Kid's Menus
The Captain's Pasta Bar

Bottomless Bubbles
Dining Room Breakfast

Kid's Meals for Campers

RedFrog Pub

Special Diets

Cooking Demonstration
Spa & Fitness
Cloud 9 Spa
Cloud 9 Spa isn't just a spa, it's a shrine to relaxation.
Cloud 9 Spa: Thermal Suite
In these rooms the thermostat only has one setting: "perfect".
ZSpa

Finally, a spa worth tweeting about.
Facial Treatments
We won't just treat you, we'll treat you well.
Men's Services
Hey man, been to the spa lately?
Medi-Spa
Looking to improve your looks? Look no further.
More options:
Hair & Beauty Salon
Jogging Track
Fitness Classes
Fitness Center
Acupunture
SkyFitness
Massage

Activities
Make it With Michaels
Make creativity happen with an onboard arts and crafts session designed by the experts at Michaels!
Build-A-Bear Workshop at Sea
Make cuddly new friends at sea.
*Additional Charge
Atrium
There's no place at sea as welcoming as the atrium - the welcome-aboard center.
Bingo
B-I-N-G-O, B-I-N-G-O, B-I-N-G-O ... this BINGO is a game-o.
*Additional Charge
Onboard Internet
Stay connected and share the good times you're having.
*Additional Charge
Military Appreciation
We take time out of every Carnival cruise to give thanks to the folks who make it all possible.

More Options:
Art Exhibitions
Mini Golf
Alchemy Martini Tasting
Games
Art Seminars
Video Arcade
Cooking Demonstration
Mixologist Competitions
Ocean Plaza
Library
Art Auctions
Art Games
Basketball
Pixels
Dreams Studio
Cherry On Top
Shops
Cherry On Top
There's a candy store on the ship? Sweet!
Fine Jewelry
Commemorate your vacation by picking up a great deal on a lifetime supply of sparkles.
Beauty
Try out a new look or stock up on your favorites-top name cosmetics, fragrances and skincare items are up to 25% off retail prices.
Accessories

There's an almost-endless selection of designer jewelry and accessories on the ship...so bring your inner fashionista along.
Apparel
We're not putting you on! There's great clothes shopping - tax-free - aboard the ship.
More Choices:
Dreams Studios
Pixels
Onboard Internet
Watches
Liquor
Inaugural Cruise: 2013 (Formerly Carnival Destiny)
Length: 893 ft.
Beam: 158 ft.
Cruising Speed: 21 knots
Please select the deck plan you will like to see below
Serenity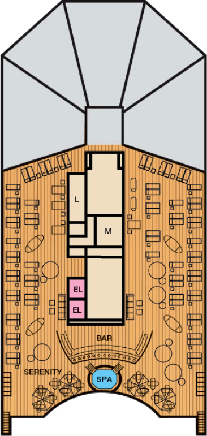 Destination
Caribbean - Eastern
Sleeping under a palm tree, strolling on endless beaches and eating ice cream while floating in a turquoise sea. What could be further from your everyday world? When you sail the Caribbean you''ll discover how relaxing, entertaining and just plain fun a week really can be. Visit a variety of beautiful islands and escape to paradise on your next vacation.
Charleston, South Carolina
Aristocratic, stately and gracious, Charleston personifies the flavor of the Old South. Tour the town's many historic homes and gardens by coach or by horsedrawn carriage. Boone Hall Plantation recreates the antebellum grandeur, and the Isle of Hope recalls the Low Country past. Tour Fort Sumter where, on April 12, 1861, local troops opened fire beginning the Civil War.
St. Thomas, U.S. Virgin Islands
Prior to the arrival of the Europeans, the island of St. Thomas was once inhabited by the Ciboney tribes around 1500 BC along with two other tribes, the Taino or Arawaks and the Caribs. Even today you will be able to find evidence of these late tribes. Also before the European began to form a colony on this island, pirates once roam this island. The most common stories of pirates usually include the names of Blackbeard and Bluebeard who have been known for thieving Spanish ships filled with gold coins and other valuables. In 1917, the Danish flag was a thing of the past and the flag of the United States is a thing of the present.

Due to the beauty of this island, breath taking attractions are everywhere you look. This island is equipped with historical sites such as the Charlotte Amalie to marine parks and beautiful botanical gardens throughout the island. During your visit make sure you indulge in the Nightlife full of calypso music for your listening pleasure as well as great restaurants for your dining pleasure and semi-block parties for your dancing delight.
Dutch St. Maarten is a great place to stop just to shop. Its capital is Philipsburg and fills a narrow stretch of land between Great Bay and the Great Salt Pond. It is a bustling center of international trade with lively shopping streets, cafes, and hotels. Strangely enough it has two main streets called Front Street and Back Street.

On Front Street, which is the main thoroughfare, duty-free shops line the road as far as the eye can see. These duty-free shops offer everything from Italian leather goods and Japanese cameras to native crafts. Don't be afraid to venture the alleyways that will lead you to arcades and courtyards filled with flowers.

The Courthouse is the most prominent landmark on Front Street. It is a grand white wooden structure topped with a cupola built in 1793. Front Street also includes the Simartin Museum so that visitors can get and excellent introduction to local St. Maartin history. There are also historical forts that are monuments to Philipsburg's strategic importance in St. Maarten's history.

Philipsburg has not been left behind in the time, however. It has combined its historical legacy with 20th century excitement. Since its waterfront has become a popular stop for cruise ships, the shore of this town is covered with restaurants, cafes and nightclubs that offer entertainment well into the night.

The fortress of El Morro guards the harbor against long-gone Sir Francis Drake and his British privateers. The colorful streets of Old San Juan retain the Latin flavor of its seafaring past, when this was the heart of the Spanish Main. Sample the fiery rum made here, or indulge in an icy treat made from fresh tropical fruit and enjoy the Caribbean atmosphere.