12 Nights Europe - Northern
departing from Barcelona, Spain
Cruise Line
Holland America Line
Departing
Sun, May 29, 2022
Return Port
Copenhagen, Denmark
Ports of Call
Barcelona, Spain | Valencia, Spain | Gibraltar, United Kingdom | Cadiz (Seville), Spain | Lisbon, Portugal |...

Barcelona, Spain
|
Valencia, Spain
|
Gibraltar, United Kingdom
|
Cadiz (Seville), Spain
|
Lisbon, Portugal
|
Vigo, Spain
|
Portland, England
|
Cherbourg, France
|
Copenhagen, Denmark
Prices starting from
Inside

Oceanview

Balcony

Suite

$1,599

USD

$133.25

USD

per day

$1,999

USD

$166.58

USD

per day

$2,159

USD

$179.92

USD

per day

$3,859

USD

$321.58

USD

per day
Port charges of
$350
USD
included. Taxes and fees of
$190
USD
are not included.
Date

Date

Location

Location

Arrival

Arrival

Departure

Departure

Sun, May 29, 2022

BARCELONA, SPAIN BOARDING TIME TO BE ASSIGNED

--

4:00 pm

Mon, May 30, 2022

VALENCIA, SPAIN

8:00 am

5:00 pm

Tue, May 31, 2022

CARTAGENA, SPAIN

9:00 am

6:00 pm

Wed, Jun 01, 2022

GIBRALTAR

1:00 pm

11:00 pm

Thu, Jun 02, 2022

CADIZ (SEVILLE), SPAIN

7:00 am

5:00 pm

Fri, Jun 03, 2022

LISBON, PORTUGAL

10:00 am

6:00 pm

Sat, Jun 04, 2022

VIGO, SPAIN

11:00 am

6:00 pm

Sun, Jun 05, 2022

AT SEA

--

--

Mon, Jun 06, 2022

PORTLAND (WEYMOUTH), ENGLAND, UNITE

8:00 am

11:00 pm

Tue, Jun 07, 2022

CHERBOURG (NORMANDY), FRANCE TIMES SUBJECT TO TIDAL COND

7:00 am

5:00 pm

Wed, Jun 08, 2022

AT SEA

--

--

Thu, Jun 09, 2022

AT SEA

--

--

Fri, Jun 10, 2022

COPENHAGEN, DENMARK

7:00 am

--
Click on a port for more information
Vendor
Holland America Line
General
Welcome to Holland America Line, recognized for nearly 150 years as a leader in premium cruising. Today, our fleet of 14 ships visit more than 470 ports of call in 98 countries connecting with all seven continents. Holland America Line guests are endlessly curious, looking to go beyond typical tourist experiences.
They''re not looking for things like waterslides, go-karts, roller coasters or climbing walls when they cruise. They are explorers who appreciate the one-of-a-kind experiences curated by the experts who manage our exclusive Explorations CentralTM destination immersion programming, with local cultural insights, insider travel tips, and unique shore excursions for an authentic experience in each destination. They are foodies who want unrivaled experiences in food, wine and spirits, and enjoy the award-winning dining influenced by our Culinary Council of seven world-renowned celebrity chefs.
They''re music lovers who appreciate the best in live music - exclusively on board at Lincoln Center Stage, B.B. King''s Blues Club, Billboard Onboard, Rolling Stone Rock Room, Postmodern Jukebox, and more.* And, they want to pursue these passions on perfectly sized, refreshingly uncrowded ships that combine classic design with contemporary elegance - all with service that attends to every detail, every day. Come, savor the journey.
*Venues vary by ship.
Overview
Nieuw Statendam, a sister ship to Koningsdam and the second of our Pinnacle-class ships, features a design inspired by the fluid curves of musical instruments. Guests can savor her innovative specialty restaurants-from Rudi's Sel de Mer to the Grand Dutch Cafe. Enjoy live music and entertainment from the Rolling Stone Rock Room, B.B. King's Blues Club, and more. Explore the thrill of BBC Earth Experiences presentations at our spectacular two-story World Stage.
Onboard Activities
Rolling Stone Rock Room
Rock Lives Here. Step into the pages of Rolling Stone magazine for a unique experience chronicling rock history as a live band kicks out iconic hits by your favorite stars.
Blend
Wine connoisseurs and novices alike can experience the art of winemaking at BLEND by Chateau Ste. Michelle, Washington State's oldest and most acclaimed winery, the intimate venue will enable guests to blend their own wine and enjoy it at dinner or in the privacy of their stateroom.
The first of its kind for Holland America Line and the only purpose-built wine-blending venue at sea, BLEND has a tasting table that accommodates 10 guests who can create their own blend from a selection of five barrels of single-vineyard red wine. In addition to participating in the blending process, guests also will learn about wine from the ship's wine expert, who leads the blending session.
Holland America Line Navigator
Personalize your cruise experience once you're on the ship with our free mobile-friendly tool. Plan your daily activities, browse and purchase shore excursions, view restaurant menus, make dining reservations, check your account balance and more.
Lincoln Center Stage
In an exclusive partnership with the world's leading center for the performing arts, we proudly present Lincoln Center Stage, showcasing outstanding musicians performing multiple programs of chamber music most evenings, as well as afternoon recitals during leisurely days at sea.
B.B. King's Blues Club
Direct from Beale Street, B.B. King's All Stars bring the best of Memphis music to sea. From funky and fast to soulful and smooth, enjoy dancing and try specialty cocktails like the Lucille and Rock Me Baby.
BBC Earth in Concert

We have partnered with BBC Earth to bring you unforgettable new ways to experience the world's natural wonders. Through the innovative and breathtaking programming, guests will be taken closer to the ocean and the natural world through groundbreaking concerts and films.
Billboard Onboard
Fifty years of chart-topping hits rock the house as two pianists play music that you know and love. It's all part of Billboard Onboard, an interactive experience made possible by a partnership with Billboard, the leading global destination for charts, news, trends and innovation in music.
Greenhouse Spa & Salon
Refresh, Relax and Rejuvenate
During a leisurely day at sea, few places help you refresh, relax and rejuvenate like the Greenhouse Spa & Salon®. This heavenly retreat nurtures every aspect of your well-being with renowned spa rituals and healing touches. In the spa, pamper your skin with facial treatments featuring premium, naturally sourced ingredients. Nurture your body, too, with massage treatments employing time-honored, hands-on massage techniques gleaned from around the world.
World Stage
Showcasing music, song, dance, comedy and more, the World Stage presents a myriad of performances and presentations to entertain and inform throughout your voyage.

Casino
Your Holland America Line ship's Casino offers a wide array of gaming options. Whether you prefer slot machines or want to try your hand at blackjack or poker, our dealers and staff are available to provide complimentary instruction — and we offer many engaging tournament options. The Casino is only open at sea.
Explorations Central
Explorations Central™ (EXC®), Holland America Line's exclusive destination programming, is designed to deepen your understanding of the places you visit. Its indispensable travel resources and opportunities to engage with experts and local insiders, make exploring each port of call more vivid and meaningful.

Bar & Lounge
Crow's Nest: Holland America Line offers you a wide selection of lounges onboard. The panoramic view takes center stage in The Crow's Nest at the top of the ship, where you can relax just about any time of day and enjoy your favorite drink.
Ocean Bar: Enjoy live music in this popular bar perfect for pre-dinner cocktails.
Tamarind Bar: Which is more delightful: the apple-pear saketini in your chilled glass or views of the sun going down in a crimson blaze? Enjoy both in this stylish hideaway – your destination for panoramic views and exotic cocktails, and just one of the wide selection of lounges and gathering places on board.
Notes: For aficionados, this is truly your whisk(e)y wonderland. At NOTES, a dedicated whisk(e)y bar guests can gaze in awe at the more than 120 labels on display — and sample some of the rarest whisk(e)y selections in the world. An interactive menu board and multiple tasting options are designed to identify uniquely personalized flavor profiles for every guest.
Dining
The Dining Room
For an elegant breakfast, leisurely lunch or unforgettable multi-course dinner, The Dining Room is your destination. Behind the scenes, our Culinary Council, an elite team of seven world-renowned chefs, and our talented onboard executive chefs have worked to bring each dish to perfection. For dinner, choose from classics such as Boneless Lamb Loin en Croute, Rosemary Roasted Chicken, as well as regionally inspired cuisine and artfully prepared vegetarian dishes. Enrich your journey with an extensive selection of wines, carefully selected by our Wine Curator, world-renowned wine critic James Suckling.
Lido Market
Explore a world of intriguing culinary possibilities in the Lido Market. Steps from the Lido pool, this modern marketplace includes a curated selection of delicious options that you can grab on the go or have made to order: Breadboard, with freshly baked breads and pastries; Wild Harvest, offering a bountiful selection of hearty salads; Homestead, serving up comfort classics; Distant Lands, featuring global cuisine; Sweet Spot, for ice cream creations and desserts; Roasting Pan, hand-carved meats, fish and other hearty entrees; Perk, freshly brewed beverages and chilled juices; Quench, premium coffee, beer, wine, and soda available for purchase; Rise, savory quiches, croissants and sandwiches, and more.
Pinnacle Grill
Reserve a table in the intimate Pinnacle Grill for lunch or dinner and celebrate the day's adventures with cuisine inspired by the bounty of America's Pacific Northwest. In this elegantly appointed room, service is warm and engaging, and a meal is an event. The menu focuses on premium ingredients expertly prepared-from wild-caught king salmon from Alaska to sustainably raised beef from Washington State's Double R Ranch. And, every evening in this venue offers a chance for you to experience the signature recipes of Culinary Council Chef David Burke. Complementing your perfectly prepared meals are boutique wines from the Pacific Northwest and other celebrated vineyards from around the world. *Meals at Pinnacle Grill are half price for kids 12 years old or under, or free when they order from the kids' menu.
Canaletto
In Italy, there's nothing more important than coming together to celebrate the joy of great food. This is the inspiration for our onboard Italian restaurant, Canaletto. Enjoy amazing Italian classics like braised chicken cacciatore al forno, branzino ai ferri or garlic shrimp ravioli. And for dessert: tiramisu, cannoli alla Siciliana, gelato, and more. Including pasta made fresh daily. Buon Appetito!
Tamarind
Praised by Condé Nast Traveler for cuisine "that rivals the top restaurants on land," Tamarind is the perfect place to explore the culinary traditions of Southeast Asia, China and Japan. The menu, which honors the elements of water, wood, fire and earth, features such exotic fare as wok-seared lobster, barramundi (Asian sea bass) in banana leaf and sushi, accompanied by chilled or heated sake. And, try our specialty sushi created in collaboration with Culinary Council member and Master Sushi Chef, Andy Matsuda.

Dive-In
Dive-In offers a variety of casual culinary classics, using the highest quality ingredients. Enjoy a burger, grilled to perfection and served on a toasted brioche with our own trade-marked secret sauce. Savor a succulent Nathan's Famous gourmet hot dog with golden French fries. Or choose a grilled chicken breast sandwich or juicy portabella mushroom stack. Dive-In is the perfect spot to dine poolside on the best burgers at sea.

New York Pizza
At New York Pizza, choose from a variety of scrumptious, 9-inch, thin-crust pies. Named for New York's famed five boroughs, our signature pizzas are made to order and topped with only the finest ingredients. Culinary Council member Ethan Stowell has also contributed signature pizza recipes to the menu. Enjoy your pizza by day while overlooking the Lido pool, and into the night. This venue is New York Deli & Pizza on Koningsdam, Rotterdam and Nieuw Statendam, offering made-to-order deli sandwiches in addition to pizza.

Nami Sushi
Inspired by Culinary Council® member and world-renowned sushi master, Andy Matsuda, Nami Sushi offers a tempting array of the sushi rolls he's created. Choose from such delectable selections as Tempura Lobster Roll with soft shell crab tempura; Dragon Roll with tempura shrimp, unagi sauce and avocado; Tsutsumi Roll with snapper, green olive, caper and avocado; Futomoki Roll with crab, yamagobo, avocado and cucumber; Volcano Roll with sesame-marinated salmon and Thai chilis; Nigiri sushi with tuna, salmon and ebi shrimp; and more. The word "nami," Japanese in origin, means "wave" and is an homage to the ocean views you'll enjoy as you dine on the freshest, tastiest and most inventive sushi at sea.

Rudi's Sel De Mer
Named for Master Chef Rudi Sodamin, Rudi's Sel de Mer is an intimate brasserie featuring classic French dishes reimagined with contemporary flair. Menu selections include whole Dover sole meuniere with shaved pink Himalayan sea salt, oysters on the half shell, fruits de mer, and salt-crust baked branzino, as well as favorites such as steak frites, duck cassoulet and coq au vin. Conclude your dinner with a classic dessert and fine French cheeses. Meals at Sel de Mer are half price for kids 12 years old or under, or free when they order from the kids' menu.
More Choices
Club Orange
24-Hour In-Room Dining
Entered Service: 2018
Guests: 2,666
Crew: 1,036
Gross Tonnage: 99,500
Length: 975
Width: 114.8
Guest Decks: 13
Please select the deck plan you will like to see below
Observation Deck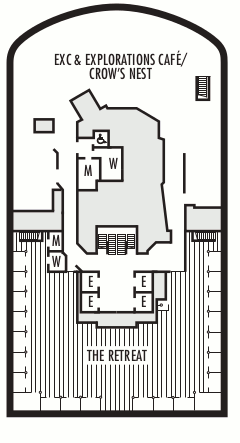 Destination
Europe - Northern
Interested in viewing many different cultures? Love to cruise? Cruising Northern Europe may be perfect for you. Most Northern European cruises can show you the Scandinavian peninsula, Baltic states, and the Netherlands on a seven to fifteen day cruise. You'll tour historic sights and see beautiful landscapes. And since you're cruising, you'll enjoy unlimited first-rate cuisine and you'll have a range of activities available to you while you're not exploring the sights. Cruises in Northern Europe often depart from Copenhagen, Stockholm, Amsterdam, or London. Ships sailing to this destination also make time to see Helsinki, Finland; Tallinn, Estonia; and Oslo, Norway.
Barcelona is the cultural heartland of Spain, yet its first language is Catalan, the native tongue of the proudly independent Catalonia region. Stroll down the shady, tree-lined Ramblas between street musicians and elegant bistros. Then perhaps visit the venerable Gothic cathedral, Picasso Museum or enjoy the architectural genius of Antonio Gaudi's Church of the Holy Family.
Gibraltar, United Kingdom
One of the "Pillars of Hercules," Gibraltar is an historic landmark with British and Spanish influences. Guarding the entrance to the Atlantic, the great rock still serves as Britain's threshold to the Mediterranean. Take a cable car to the top of the rock for a spectacular view of two continents as well as the famous Barbary apes.
Founded by Phoenicians in 1100 B.C., Cádiz may be the oldest continuously occupied city in the West. The Cathedral's gold dome dates from 1722, when New World treasures flowed here. But is also the gateway to the Moorish marvels of Seville: the Alcazar and Giralda Tower, the fountains and palaces of Maria Luisa Park, and the great Cathedral, whose altar is decorated with 4,000 pounds of gold from the Americas!
Lisbon is many cities, from the cobbled alleys of the Alfama district to the broad Parisian style avenues at its heart. View it all from the heights of St. George's Castle. Belem's Monument to the Discoveries recalls the seafaring past, while nearby Sintra's storybook palaces, and the seaside resort of Caiscais, have different tales to tell.
...Vineyards can be found everywhere...Spain's northwestern region is so scenic that it is not odd to see tourists holding multiple cameras...The nearby city of Santiago de Compostela is home to a cathedral that supposedly houses the remains of St. James the Apostle.Shrines, churches, and hospitals of the past are scattered throughout the northwest...
The European culture capital in 1996, Copenhagen is Scandinavia's liveliest city. The musical and artistic pageantry are rivaled only by the changing of the guard ceremony in front of the Amalienborg Palace, home of the royal family since 1794. Yet certain parts of Copenhagen maintain a village-like feel, like the winding streets around the Raadhuspladsen and enchanting Tivoli Gardens.