14 Nights Mediterranean
departing from Piraeus (Athens), Greece
Cruise Line
Princess Cruises
Departing
Sat, May 22, 2021
Return Port
Rome (Civitavecchia), Italy
Ports of Call
Piraeus (Athens), Greece | Santorini (Thira), Greece | Kotor, Montenegro | Messina, Sicily, Italy | Naples, Italy |...
Piraeus (Athens), Greece
|
Santorini (Thira), Greece
|
Kotor, Montenegro
|
Messina, Sicily, Italy
|
Naples, Italy
|
Barcelona, Spain
|
Gibraltar, United Kingdom
|
Marseille, France
|
Genoa, Italy
|
Florence, Italy
|
Rome (Civitavecchia), Italy
Prices starting from
Inside

Oceanview

Balcony

Suite

$2,539

USD

$181.36

USD

per day

$3,499

USD

$249.93

USD

per day

$3,369

USD

$240.64

USD

per day

$4,169

USD

$297.79

USD

per day
Port charges of $350 included. Taxes and fees of $165 are not included.
Date

Date

Location

Location

Arrival

Arrival

Departure

Departure

Sat, May 22, 2021

ATHENS (PIRAEUS), GREECE CHECK IN STARTS AT 1200P CHECK IN 12:00PM-5:00PM

--

7:00 pm

Sun, May 23, 2021

SANTORINI, GREECE WATER SHUTTLE REQUIRED WHEELCHAIR ACCESS LIMITED

7:00 am

7:00 pm

Mon, May 24, 2021

AT SEA

--

--

Tue, May 25, 2021

KOTOR, MONTENEGRO WATER SHUTTLE REQUIRED WHEELCHAIR ACCESS LIMITED

7:00 am

3:00 pm

Wed, May 26, 2021

SICILY (MESSINA), ITALY

12:00 pm

8:00 pm

Thu, May 27, 2021

NAPLES, ITALY (FOR CAPRI & POMPEII)

7:00 am

7:00 pm

Fri, May 28, 2021

AT SEA

--

--

Sat, May 29, 2021

BARCELONA, SPAIN CHECK IN 1:00PM-8:00PM

5:00 am

10:00 pm

Sun, May 30, 2021

AT SEA

--

--

Mon, May 31, 2021

GIBRALTAR

7:00 am

5:00 pm

Tue, Jun 01, 2021

AT SEA

--

--

Wed, Jun 02, 2021

MARSEILLE (PROVENCE), FRANCE

8:00 am

6:00 pm

Thu, Jun 03, 2021

GENOA, ITALY

7:00 am

9:00 pm

Fri, Jun 04, 2021

FLORENCE/PISA (LIVORNO), ITALY

7:00 am

7:00 pm

Sat, Jun 05, 2021

ROME (CIVITAVECCHIA), ITALY

5:00 am

--
Click on a port for more information
General
One of the best-known names in cruising, Princess Cruises first set sail in 1965 with a single ship cruising to Mexico. Today, the line has grown to become the third largest cruise line in the world, renowned for innovative ships, an array of onboard options, and an environment of exceptional customer service. A recognized leader in worldwide cruising, Princess carries 1.7 million guests each year to destinations around the globe ranging in length from three to 114 days, allowing them to see the world and come back new.
Princess Cruises was catapulted to stardom in 1977 when one of its ships, Pacific Princess, was cast in a starring role on a new television show called "The Love Boat." The weekly series, which introduced millions of viewers to the concept of a sea-going vacation, was an instant hit and both the company name and its "seawitch" logo have remained synonymous with cruising ever since. The show, which can still seen around the world, has been widely credited with fueling the dramatic expansion of the industry.
Overview
Enchanted Princess casts a spell with one-of-a-kind dining experiences crafted by Michelin-star chefs in Emmanuel Renaut's Bistro Sur La Mer and Crafted by Curtis Stone, served in the Main Dining Room, and the most pools and whirlpool hot tubs ever. Dazzling entertainment performances, the breathtaking new Sky Suite, and MedallionClass offer a more personalized journey than you ever imagined.
Ship Hilights
Vista Show Lounge
The newly re-designed Vista Lounge at the aft of the ship features an endless variety of world-class entertainers on stage each night-from live bands and comedians to illusionists and musicians. Grab an expertly crafted cocktail and snag a spot in an intimate nook for the perfect place to relax, unwind and enjoy quality time with friends and family.
Vegas Style Casino
From gaming lessons to the latest slot machines to prize tournaments, our Casinos offer fun and excitement. If you enjoy blackjack, or "21," and Texas Hold 'Em, our tables play by Vegas rules and if you relish the challenge of roulette, we offer the American version.
Take Five
Relive the roots of jazz each evening with a live trio performing brilliant classics and telling tales of true jazz legends throughout the ages. Debuting first onboard Sky Princess and Enchanted Princess, Take 5 comes to life showcasing vintage footage, iconic imagery and intimate conversations that transport you to the heart of the jazz era. Join in on a salsa class during the day, then swing your hips to the fiery rhythms of Afro-Cuban jazz at night as you sip cocktail favorites from Master Mixologist, Rob Floyd.
Princess Live!
Join family or friends at an intimate table in the spacious Princess Live! and Cafe, and enjoy your favorite drinks as an ever-changing variety of live performances takes the stage. Sip barista-made coffee or tea from the Cafe as a fresh comedy act steps into the spotlight. Savor a quick bite while talented artists share their diverse musical styles. You may even encounter a game show that invites you to play along.
Crooners
Step into Crooners bar and be transported to the classic Sinatra era, made complete with a top notch pianist croonin' tunes and tinkling the ivories. The "Rat Pack" atmosphere and famous menu of signature martinis, old-school mixed drinks and frosty daiquiris, margaritas and coladas will have you singing. Talented mixologists impress with their cocktail-making prowess and tequila and whisky tastings that will turn you into a connoisseur.
More Choices
Pools (Retreat, Wakeview, Top Deck)
The Piazza
The Shops of Princess
Princess Theater
Activities and Entertainment
Movies Under the Stars
Throughout the day and night, our exclusive open-air poolside amphitheater is the go-to destination for feature films, thrilling concerts and exciting sporting events such as live football games. Cozy up under a fleece blanket in the comfortable lounger and feast on complimentary fresh-popped popcorn in the evening or delicious cookies and milk during the day, and enjoy that exciting car chase or mystery thriller on the giant screen.
The Voice of the Ocean
Have you got The Voice of the Ocean? Princess Cruises brings the excitement and spectacle of TV's most popular singing competition to the high seas, live and on-stage, with The Voice of the Ocean. The show comes to life throughout the cruise with blind auditions, mentor sessions, the iconic "I Want You" chairs, three charismatic coaches and ultimately a finale performance where guests vote to choose the winner.
Original Music Productions
Crafted by some of the world's top directors and choreographers, our remarkable and dynamic Princess productions transport you to realms as exotic as the destinations we visit. Imaginative shows created in-house feature dazzling stage sets, Broadway classics, popular hits and original numbers performed by some of the largest and most talented casts at sea.
Festivals of the World
There's nothing like a Princess party to bring people together. Our Festivals of the World hosts onboard events that celebrate timeless traditions from nearly every corner of the globe.* Parties and dancing, lively music and folkloric performances, enriching activities, themed movies and specialty shopping are just some of the ways our Festivals of the World come to life! From Oktoberfest to Rio's Carnival, Festivals of the World is a gala event you won't want to miss.
Featured Guest Entertainers
Grab a seat, order a cocktail and be prepared to be entertained by our lineup of world class entertainers. From magic to comedy, singers to instrumentalists, jugglers to balancing acts and much, much more, we search the globe for top talent to be featured on our ships. So get ready to be amazed, entertained, mesmerized or just laugh the night away!
Phantom Bridge Escape Room
Discovery at SEA and Princess partner to create an industry-@257;rst escape room experience, driven by a powerful gaming engine. With hundreds of different outcomes, this immersive interactive experience puts your team's creative thinking skills to the test. Work together as you travel through time and the room comes to life around you. It's an adventure the whole family can enjoy together.
More Choices
Discovery at SEA Programs
Art Gallery & Auctions
Platinum Photography Studio
Sports Court
MedallionNet Wi-Fi
Music & Dancing
Kids, Teens & Family
Just for Kids 3-7
Explore the Treehouse Even the littlest guests will delight in this whimsical, forest-themed world that inspires playtime and invites exploration. Kids, ages 3 to 7, can dance, enjoy pajama movie nights, create art projects like Animal Planet puppets and masks or compete in a Lego boat-building contest.
Just for Kids 8-12
Step into the Lodge Inspired by the great outdoors, this cozy center keeps kids busy with games, dancing and kid-sized Olympic competitions. Their minds stay busy, too, with California Science Center programs like rocket building, or they can explore outer space with Stargazing and learning how to build a model roller coaster. Exciting events like talent shows, theme nights, and treasure hunts encourage new friendships and family togetherness.
Just for Kids 13-17
Hangout in the Beach House This contemporary lounge is "the place" for teens - perfect for hanging out and socializing with late-night movie viewing, hip hop dance classes, video game tournaments and sports competitions like dodgeball and basketball. But that's just the beginning. They'll dazzle on the red carpet with our Rock the Boat teens-only party, complete with awards and "mocktails."
Family
Quality time together Princess makes it easy to sail together in comfort. There is a wide selection of staterooms accommodating up to four guests, and you'll enjoy substantial savings on your third and fourth guests. There are also connecting stateroom options, as well as Two Bedroom Family Suites, with room for up to eight guests, which offer more living space, a balcony and two bathrooms, including a full bath tub.
Discovery at SEA Programs
Our exclusive partnership with Discovery lets you come back captivated with Stargazing on our top deck; activities featuring Discovery hit shows such as Shark Week and Finding Bigfoot; plus our new Encounters with Discovery at SEA speaker series. Get more out of your travels with shore excursions recommended by two of the most trusted names in world travel-Discovery and Animal Planet.
Spa and Fitness
The Sanctuary
Greater tranquility just for adults With eight private cabanas at The Sanctuary - twice as many as our other Royal-class ships - Sky Princess offers even more opportunities to indulge in a private getaway at our exclusive adults-only retreat. Relax with signature beverages, light meals, and al fresco massages. Serenity Stewards attend to your every need, whether it's to be on hand to provide chilled face towels or Evian water atomizers.
Lotus Spa
Go ahead, be pampered - you deserve it Named "Best Spa on a Cruise Ship" by Spafinder Wellness 365, the Lotus Spa offers a variety of relaxing treatments, such as facials, aroma stone therapy massages, detoxifying ocean wraps and an aromatherapy thermal suite. Or get ready for a night on the town at the salon which features women's styling color, men's haircuts and shaves, manicure and pedicure choices and teeth whitening.
Lotus Spa Fitness Center
A host of ways to get an energizing workout The Lotus Spa Fitness Center offers fitness programs designed to help you maximize your wellness with Tour de Cycle, personal training and classes such as Pilates, Yoga, Body Sculpt Boot Camp, Results Based Training and TRX suspension training. The Lotus Spa Fitness Center also features state-of-the-art equipment so you can tone on your own.
The Enclave at Lotus Spa
Luxuriate in our largest-ever Thermal Suite Open the door to The Enclave, home to Princess' largest-ever thermal suite and a dramatic hydro-therapy pool with a cascading rain shower and therapeutic air jets. Relax on heated stone beds or soothing water beds. Features include: The Hammam - a Turkish-style steam bath, and from Roman times, the Caldarium - a light steam chamber infused with herbal aromas and the Laconium - a heated, dry chamber to help with purification and detoxification of the body.
Dining
Included Dining
Ocean Terrace
The Ocean Terrace seafood bar is ideal for those who love to feast on the bounty from the sea. This stylish bar offers an array of ocean treasures, including a flight of oyster shooters, sushi and sashimi, ahi tuna poke, king crab cocktail, chili and lime crab margarita, a royal lobster dish, and the world-renowned smoked Balik salmon, the salmon of the tsars. A la carte pricing makes it easy to pick and choose
Crafted by Curtis Stone
In the Main Dining Room, savor fresh new cuisine designed by award-winning Chef Curtis Stone during every voyage. Personal reflections on the menu by Chef Stone elaborate on each "Crafted" selection, prepared with the most authentic ingredients. Be enticed by dishes featuring delicious meats and seafood, fresh produce and vibrant, bold flavors.
Salty Dog Grill
Treat yourself to one of our 100% handmade Gourmet Burgers, including our Princess Burger or Triple Smoked Burger. The Salty Dog Grill also offers new Street Tacos-a Princess first-featuring a choice of grilled chipotle-lime chicken or roasted sweet potato-green chile. And don't miss the Classic Hot Dogs, plus loaded fries in tempting varieties including chili cheese and bacon & cheese.
Chocolate Journeys
There are few foods that inspire as much passion as chocolate, and master chocolatier Norman Love has designed some of the most decadent, hand-crafted treats exclusively for Princess' Chocolate JourneysSM program. Trained in France, and named the Inaugural Inductee into the Chocolatier Hall of Fame by Dessert Professional Magazine, Chef Love combined premium quality chocolate with unique flavors and artful designs to mastermind his exclusive creations found in the main dining room and at Horizon Court.
Slice
Our top-deck pizzeria features a bold new look that sets the stage for tempting offerings that include specialties inspired by local favorites from the Pacific to the Atlantic. Try a Deep Dish Focaccia or a slice of our award-winning signature Neapolitan-style classics. Savor some California Artisanal Toast with Cali-Avocado or Caprese toppings. Or go for a Sliced Stromboli, and enjoy an East Coast take on a classic Italian calzone that's stuffed with delicious Italian deli meats and cheeses.
Gelato
Get a taste of "la dolce vita" at Gelato, our new gelateria on board. (Fun fact: gelato isn't ice cream. While it's creamy, it has less butter fat and fewer calories.) Our gelato is the real deal, produced fresh each day with Italian-certified ingredients and equipment. Choose from a variety of flavors - hazelnut, tiramisu, pistachio and more - which you can enjoy by themselves or in combination.
More Choices
Anytime Dining
World Fresh Market Place
International Cafe
Coffee & Cones
Traditional Dining
Afternoon Tea
Specialty Dining
Sebatini's Italian Trattoria
From across the fleet, treasured family recipes curated from our Italian chefs inspire the menu at this transformation of our acclaimed specialty restaurant. A half-million-dollar redesign welcomes you to a modern interior with a rustic flavor. Unique, handmade pasta courses, prepared fresh daily, invite you to experience the culinary magic of Chef Angelo Auriana-executive chef of renowned Los Angeles restaurants The Factory Kitchen and officine BRERA-who delights in sharing the Northern Italian flavors of his hometown, Bergamo.
Bistro Sur La Mer by Emmanuel Renaut
Savor casual French bistro-style dining with a modern twist at Bistro Sur La Mer, created with Chef Emmanuel Renaut, who holds the prestigious title of "Meilleur Ouvrier de France" (Best Craftsmen of France) and Chef of the Year by Le Chef, and whose Flocons de Sel restaurant has received three Michelin stars. Chef Renaut has created a tantalizing menu, showcasing authentic French dishes crafted with the Chef's signature flair.
Chef's Table Lumiere
An extraordinary treat for both gastronomes and gourmet novices, the Chef's Table Lumiere is a perfect culinary journey for any special occasion. Join a select group of guests for a behind-the-scenes galley tour with champagne and hors d'oeuvres, followed by an extravagant multi-course dinner created and hosted by the ship's executive chef. Perfect for celebrating an anniversary or milestone, or just making your cruise vacation even more amazing.
The Salty Dog Gastropub
A warm, inviting gastropub experience developed with Ernesto Uchimura, a founding chef of the original Umami Burger. Try one of our innovative gourmet creations inspired by pub favorites or devour the "Ernesto", a savory rib eye burger named "Best Burger at Sea" by Cruise Critic. Offering a unique variety of beer, whiskey and cocktail selections, plus live music, there's something for everyone at this hip, friendly twist on traditional pub fare.
Crown Grill
With a rich wood decor and a theater-style kitchen, it's no wonder Crown Grill was named among the "Best Cruise Ship Steakhouses" by USA TODAY. Featuring premium aged beef and fresh seafood items, this specialty restaurant offers an intimate dining experience in a classically elegant setting and an open kitchen where chefs prepare and cook to order top-quality cuts of beef, chops and seafood.
Ultimate Balcony Dining
Choose a luxurious breakfast or experience the "ultimate" romantic dinner at sea: a sumptuous multi-course meal, including succulent lobster tail and juicy steak, your beverage of choice, hors d'oeuvres, all served right on the privacy of your own balcony by our dedicated waitstaff. Treat yourself to this unparalleled indulgence and savor food, views and memories that will never be forgotten.
Debuting: 2020
Guests: 3,660
Crew: 1,346
Please note: Stateroom images and features are samples only. Actual furniture, fixtures, colors, configurations and window/porthole views may vary.
Balcony
Description
This impressive stateroom offers the added indulgence of a balcony and gives you more space than a standard stateroom. Enjoy your own private outdoor space with a table, two chairs, and a relaxing view of the inspiring scenery surrounding you, whether a beautiful sunset over the ocean or a new city to explore. It's also perfect to enjoy cocktails before dinner or a leisurely breakfast. Some staterooms may have views that are obstructed by lifeboats or other ship structures.
Premium Deluxe Balcony
Description
Larger than our Standard Balcony staterooms, Premium Deluxe Balcony cabins includes all the same features of the Balcony stateroom, plus an additional sofa bed for lounging or sleeping a third passenger. Some also have an upper bed to accommodate a 4th guest.
Deluxe Balcony
Description
Choose this enhanced version of a Balcony stateroom with more space and a comfortable sofa bed. Enjoy a larger balcony with more room to view the beautiful scenery as you sail from destination to destination and take in the ocean breeze for a wonderful and romantic evening or morning. This stateroom also includes some of the amenities offered in a Mini-Suite stateroom.
Deluxe Balcony Obstructed
Description
The Obstructed View Deluxe Balcony cabin includes all the same features of the Balcony stateroom, but have a partially or fully obstructed view from the balcony. It features a sofa bed for relaxing or accommodating a 3rd passenger. Some also have an upper bed to accommodate a 4th guest.
Interior
Description
These staterooms are the perfect place to recharge your batteries. Our most affordable option, featuring two twin beds or a queen-size bed. Other amenities include a refrigerator, hair dryer, TV, closet and bathroom with shower.
Club Class Mini-Suite
Description
A premium stateroom category featuring our best located Mini-Suite staterooms, as well as the great amenities found in all Mini-Suites - plus premier dining benefits and luxurious perks. Each night, enjoy Club Class Dining, an exclusive dining area featuring expedited seating with no wait, expanded menu options, dedicated wait staff and tableside preparations. Other amenities include priority embarkation and disembarkation, a complimentary one-time wine set-up and so much more!
Premium Mini Suite
Description
The Club Class Mini-Suite is a premium stateroom category featuring our very best Mini-Suite staterooms, as well as the great amenities found in all Mini-Suites - plus premier dining benefits and luxurious perks. Mini-Suites include a separate sitting area with sofa bed, premium bathroom amenities and two flat-panel televisions.
Mini-Suite
Description
Choose a luxurious Mini-Suite with balcony which is substantially larger than a Balcony stateroom and receive a complimentary welcome glass of Champagne. Mini-Suites include a separate sitting area with sofa bed, premium bathroom amenities and two flat-panel televisions. For families or groups needing a little extra space, Mini-Suites offer an appealing and affordable option.
Deluxe Oceanview
Description
These staterooms are the perfect place to recharge your batteries. Enjoy the added benefit of a view of the ocean from a picture window that brings in natural light. This stateroom includes all the amenities of an interior stateroom.
Sky Suite
Description
Sweeping Vistas and Our Largest Balcony at Sea: Exclusive doesn't begin to describe the experience. Crowning the heights of the ship, each Sky Suite hosts up to five guests, dazzling you with a 270-degree panorama throughout your voyage. Complementing the exquisitely appointed interior living spaces, a luxuriously furnished balcony - our largest at sea - invites you to relax privately or host your own celebrations or catered events.
Owner's Suite
Description
Premium accommodations and luxurious appointments are the signature of our expansive suites. Suite staterooms include a spacious cabin and large blacony, along with special suite-only benefits. All Suites include a separate seating area with a sofabed, walk-in closet, full bathroom and deluxe amenities.
Penthouse Suite
Description
Premium accommodations and luxurious appointments are the signature of our expansive suites. Suite staterooms include a spacious cabin and large blacony, along with special suite-only benefits. All Suites include a separate seating area with a sofabed, walk-in closet, full bathroom and deluxe amenities.
Premium Suite
Description
Premium accommodations and luxurious appointments are the signature of our expansive suites. Suite staterooms include a spacious cabin and large blacony, along with special suite-only benefits. All Suites include a separate seating area with a sofabed, walk-in closet, full bathroom and deluxe amenities.
Window Suite
Description
Premium accommodations and luxurious appointments are the signature of our Window Suite, along with special Suite-only benefits. This Suite features a large picture window instead of a balcony and includes a separate sitting area with a sofa bed, walk-in closet and bathroom with bathtub, separate shower and deluxe amenities.
Please note: Stateroom images and features are samples only. Actual furniture, fixtures, colors, configurations and window/porthole views may vary.
Please select the deck plan you will like to see below
Vista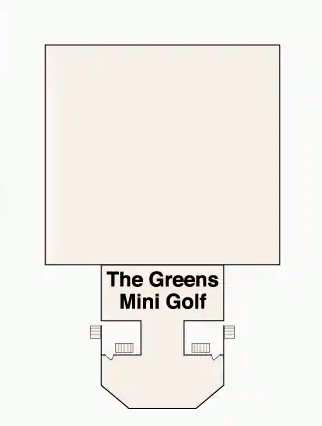 Destination
Mediterranean
History. It's everywhere you turn. Down narrow, cobble-stoned streets, atop rugged mountain cliffs just off the decks of your cruise ship. Escape all the pressures of civilization without missing out on any of its pleasures.

Your days ashore are invitations to adventure, education and the pure pleasure of seeing things you've only read about before. Visit castles, museums and galleries. Explore ancient cities through winding canals. From glorious gardens and gilded theaters to famous boulevards and fabled landmarks, you're in for a picture-perfect experience.

Piraeus is the seaport for Athens, the capital of western civilization, which boasts a fantastic mix of classical ruins and vivacious modern life. In a single day, you can climb the hill of the Acropolis to wonder at the Parthenon, join the lively Athenians in Constitution Square, and then find a welcoming taverna for some spirited bizouki music, plenty of ouzo to drink, and with luck, energetic Greek dancing.
Santorini (Thira), Greece
With its steep volcanic flanks looming straight up from the sea, and the tiny white village of Thira clinging high atop the cliffs, Santorini is perhaps the most breathtaking and legendary of all the Greek Isles. To the south is Akrotiri, where recent Minoan excavations support the theories that Santorini might be the fabled lost continent of Atlantis.
This typical Mediterranean town is located at the end of Kotor Bay, which sits on the Montenegrin coast in the southern Adriatic. Due to the history of Kotor, it is the oldest town in Montenegro and is now a historical monument protected by the state. This town of Kotor has belong to many countries, around 3 B.C. the town was colonized by the Greeks, and later was an affiliate of Roman and Byzantine empires. In 1797, this town became a vital naval base under Austria's possession. In 1918, after World War II, this town became the property of Yugoslavia and is now included in the constituent republic of Montenegro. Kotor has been a 16th century cathedral, town walls, and a medieval fort.
The setting for Shakespeare's Much Ado About Nothing, Messina has much to offer in the way of history. Its dramatic, boulder-filled harbor has challenged navigators since the days of Ulysses. Try to visit the city's Bell Tower at the stroke of noon--the hour when one of the world's largest and most fanciful mechanical clocks springs into action. Messina's museum is also noteworthy for its Renaissance masterworks.
One of the most spectacular bays in the world lies in the shadow of Mt. Vesuvius. Visit the San Carlo Opera House and the cathedral of San Janarious, or tour the ancient ruins in the Roman cities of Pompeii and Herculaneum.
Barcelona is the cultural heartland of Spain, yet its first language is Catalan, the native tongue of the proudly independent Catalonia region. Stroll down the shady, tree-lined Ramblas between street musicians and elegant bistros. Then perhaps visit the venerable Gothic cathedral, Picasso Museum or enjoy the architectural genius of Antonio Gaudi's Church of the Holy Family.
Gibraltar, United Kingdom
One of the "Pillars of Hercules," Gibraltar is an historic landmark with British and Spanish influences. Guarding the entrance to the Atlantic, the great rock still serves as Britain's threshold to the Mediterranean. Take a cable car to the top of the rock for a spectacular view of two continents as well as the famous Barbary apes.
Marseille is France's second largest city, but it often goes unnoticed and unvisited by travelers... They are missing out on one of France's most diverse cities, both in terms of people and activities... Today, Marseille faces the same problems as any growing city. Crime is an issue, as is racial tension between the native French population and the arriving North African immigrants. Twenty-five percent of the population in Marseille is of North African descent, and that number is growing. But the city has come to embrace its newfound diversity, and is eager to put its best foot forward to attract a piece of the ever-growing tourism industry.
Christopher Columbus hailed from Genoa "the Proud," which enjoys one of the most illustrious maritime histories in all of Italy. It also features the largest medieval city center in Europe as well as Renaissance palaces that once enthralled Rubens and Van Dyck. From here, you can take an excursion to Milan, Italy's vibrant epicenter of fashion, business and the arts, to feast your eyes on The Last Supper and tour the grand opera house of La Scala. Or, enjoy a trip to Portofina, the most picturesque resort on the Italian Riviera.
The achievements of the Renaissance have been preserved and lovingly cared for by the city...artists like Botticelli and Michelangelo were encouraged to produce masterpieces like the Birth of Venus and David. Advancements in architecture, the likes of which hadn't been seen before in Europe... But before you think that Florence is a city trapped in the past, know that it is a highly modernized Italian town...Florence has also emerged as one of the leading shopping and dining destinations in Italy
Rome (Civitavecchia), Italy
The port of Civitavecchia is the gateway to The Eternal City, where all roads lead. Mad traffic careens past monuments of the great civilizations of the past. You will want to see it all: the soaring inspiration of St. Peter's, the Vatican and the Sistine Chapel; the flow of life along the Spanish Steps, the Coliseum, the Via Veneto and Trevi Fountain. Be sure to leave time for la dolce vita in one of the piazzas.