18 Nights Mediterranean
departing from Rome (Civitavecchia), Italy
Cruise Line
Seabourn Cruise Line
Departing
Sat, Aug 29, 2020
Return Port
Rome (Civitavecchia), Italy
Ports of Call
Rome (Civitavecchia), Italy | Livorno (Florence/Pisa), Italy | Portofino, Italy | Bandol, France | Sete, France |...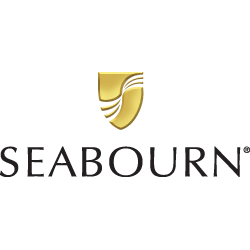 Rome (Civitavecchia), Italy
|
Livorno (Florence/Pisa), Italy
|
Portofino, Italy
|
Bandol, France
|
Sete, France
|
Palamos, Spain
|
Palma de Mallorca, Spain
|
Barcelona, Spain
|
Valencia, Spain
|
Gibraltar, United Kingdom
|
Cadiz (Seville), Spain
|
Tangier, Morocco
|
Motril, Spain
|
Cartagena, Spain
|
Golfo Arranci, Italy
Date

Date

Location

Location

Arrival

Arrival

Departure

Departure

Sat, Aug 29, 2020

CIVITAVECCHIA (ROME), ITALY CHECK IN STARTS AT 0200P

--

5:00 pm

Sun, Aug 30, 2020

LIVORNO (FLORENCE/PISA), ITALY

7:00 am

7:00 pm

Mon, Aug 31, 2020

PORTOFINO, ITALY TENDER REQ'D; WC ACC LIM

8:00 am

5:00 pm

Tue, Sep 01, 2020

BANDOL, FRANCE TENDER REQ'D; WC ACC LIM

8:00 am

5:00 pm

Wed, Sep 02, 2020

SETE, FRANCE

8:00 am

11:00 pm

Thu, Sep 03, 2020

PALAMOS, SPAIN

8:00 am

6:00 pm

Fri, Sep 04, 2020

PALMA DE MALLORCA, SPAIN

8:00 am

6:00 pm

Sat, Sep 05, 2020

BARCELONA, SPAIN

7:00 am

5:00 pm

Sun, Sep 06, 2020

VALENCIA, SPAIN

8:00 am

11:00 pm

Mon, Sep 07, 2020

AT SEA

--

--

Tue, Sep 08, 2020

GIBRALTAR

8:00 am

11:00 pm

Wed, Sep 09, 2020

CADIZ (SEVILLE), SPAIN

8:00 am

11:00 pm

Thu, Sep 10, 2020

TANGIER, MOROCCO

8:00 am

6:00 pm

Fri, Sep 11, 2020

MOTRIL (GRANADA), SPAIN

8:00 am

11:59 pm

Sat, Sep 12, 2020

MELILLA, SPANISH MOROCCO, SPAIN

8:00 am

6:00 pm

Sun, Sep 13, 2020

CARTAGENA, SPAIN

8:00 am

5:00 pm

Mon, Sep 14, 2020

AT SEA

--

--

Tue, Sep 15, 2020

GOLFO ARANCI (COSTA SMERALDA), SARD TENDER REQ'D; WC ACC LIM

9:00 am

6:00 pm

Wed, Sep 16, 2020

CIVITAVECCHIA (ROME), ITALY

7:00 am

--
Click on a port for more information
Vendor
Seabourn Cruise Line
General
At Seabourn, we are passionate about travel. We believe that traveling for pleasure has a redemptive power that enriches people's lives. And we believe that people should travel well.
Cruising on a Seabourn ship is unlike any other form of travel. The experience is luxurious, yet relaxed -- elegant, yet casual -- sumptuous, yet understated. Our intimate ships visit the most desirable destinations worldwide, sailing to the heart of landmark cities, as well as to hidden gems where larger vessels cannot follow.
Our ships attract interesting people, who seek to share experiences beyond the expected in places beyond the ordinary. Our acclaimed staff offers a unique style of heartfelt hospitality that is sincere, thoughtful and personal.
Seabourn pioneered small-ship, ultra luxury cruising, and continues to represent the pinnacle of that unique style of travel. Its fleet of intimate, all-suite ships, carrying between 458 and 600 guests each, sail to the world's most desirable destinations at their peak seasons. On board, guests are served by an award-wining crew. Seabourn's ships attract accomplished people who enjoy traveling well, and sharing fun and adventures with other interesting people. A great many of them have found the Seabourn cruise experience to be their preferred method of travel, and return regularly to sail with us again and again. We would welcome the opportunity to explore whether that might be true for you.
In 2009, Seabourn again raised the bar with the debut of Seabourn Odyssey, hailed as "a game-changer for the ultra-luxury segment." Although larger than the original Seabourn sisters, Seabourn Odyssey carries just 458 guests and offers a wealth of amenities made possible by the highest ratio of space per guest in the cruise industry, including the largest spa on any luxury ship and generous private verandas on 90 percent of her suites. Seabourn Odyssey has since been joined by two identical sisters, Seabourn Sojourn in 2010 and Seabourn Quest in 2011. Our first 600 passenger ship, Seabourn Encore, was delivered in 2016 and a second 600-passenger ship, Seabourn Ovation delivered in Spring 2018.
Our expanded fleet allows us to offer the award-winning Seabourn experience to more travelers, in more cruising regions than ever before. No matter where in our wide world you want to travel, we offer you the opportunity to see it all in perfect elegance and ease -- to travel well -- aboard the best small ships in the world.
We would be honored to have you travel with us on your next journey.
Overview
Seabourn Encore is as strikingly beautiful and as excitingly innovative as any Seabourn has ever debuted. She crowns a fleet that is already the newest, most modern and most acclaimed in the ultra-luxury segment. Modeled on the award-winning trio of ships introduced with Seabourn Odyssey, Seabourn Encore represents another welcome stage in the evolution of small-ship cruising, which Seabourn pioneered and has consistently expanded and enriched.
Bars & Entertainment
Patio Bar Offering the perfect setting for a sunny afternoon, the Pool Patio has everything you need for a day spent unwinding. The swimming pool is surrounded by a sundeck with chaise lounges, shaded seating, two large whirlpool spas, and is within steps of the Patio Grill and Patio Bar.
The Club
Open for afternoon tea then transforms into a dance club in the evening. Socialize while enjoying cocktails, live music, and great company.
Sky Bar
The Sky Bar is a place to enjoy a refreshing tropical beverage during the day, or an evening cocktail under the stars.
Observation Bar
Stunning lounge with a bar and panoramic views. Enjoy Coffee and Tea served every morning, and drinks before or after dinner.
Card Room
Many veteran cruisers specifically choose cruises that provide at least a few days at sea. The Card Room is a great choice for the sea-loving cruiser who craves that languorous feeling of lazy leisure. There will be loads of on board activities during those days, including a great game of bridge.
Dining
Earth & Ocean Each evening, our skilled Earth & Ocean chefs create an imaginative array of fresh, inventive dishes - a sophisticated menu celebrating eclectic traditional flavors from around the world, served in a relaxed setting under the stars for a distinctive dining experience unlike any other on board.
The Restaurant
Before Seabourn, open-seating dining on a cruise ship was unheard of. Come when you like, with whom you please, and be seated as you wish. The room is beautiful, the cuisine is exquisite, and the service is simultaneously flawless, friendly and fun.
The Patio
Relaxed poolside dining offering luncheon buffets, salads, soups, grilled specialties and freshly baked pizza. Dinners feature a full menu in an alfresco setting. For The Patio, Chef Keller has developed exclusively for us, a signature Napa burger, as well as an artisanal hot dog dubbed the Yountwurst, named for the hometown of The French Laundry, Ad Hoc, and the original Bouchon and Bouchon Bakery.
The Colonnade Our more casual, indoor/outdoor alternative, features an open kitchen, lavish buffets or table service for breakfasts and lunch, and serves regionally themed, bistro-style dinners with table service nightly.
The Grill By Thomas Keller The Grill by Thomas Keller is a unique culinary concept for Chef Keller, exclusive to Seabourn. Guests setting foot inside the elegant dining room will be treated to table-side preparations of Caesar salad and ice cream sundaes as well as a range of other steakhouse favorites like Lobster Thermidor and creamed spinach, presented a la carte. The timeless menu will draw on the freshest products from artisan purveyors. A cocktail program and wine list of domestic and old-world labels complement the menu.
In-Suite Dining Seabourn is pleased to offer a varied menu available around the clock for service in your suite. You may also order dinner from The Restaurant menu and have your meal served, course by course, in your suite or on your veranda.
Sushi Seabourn researched the best ingredients and developed a menu that is a perfect blend of authenticity to maintain the root of the cuisine, and a twist of Seabourn's culinary expertise. The sushi concept is a modern line that is steeped in tradition using the finest ingredients. Hamachi, tuna, shrimp and other fresh fish products will be shipped from Japan to Sushi and served a la carte for dinner. The menu features caviar and small plates, along with a selection of maki rolls, sushi and sashimi, and salads. In addition, the restaurant will feature three varieties of bento boxes for lunch: meat, seafood and vegetarian.
Activities
Whirlpool A breathtaking ocean vista will dazzle your senses on the pool deck. Boasting a prime location, this picturesque area presents you with the opportunity to soak up some rays during the afternoon, or socialize in the whirlpool in the evening.
Fitness Center
Our Fitness Center features high performance Technogym equipment for cardio and strength training. We also offer a series of complimentary classes including yoga, Pilates and Tai Chi. Or, if personal attention is preferred, our personal trainers will design a nutrition and exercise plan that will help you achieve results. Based on your body's particular needs, this personalized session will expose you to the wellness program that works best with your body. sing a tri-dimensional pulley system, our personal trainers will guide you through a series of exercises designed to improve balance, flexibility and strength.
The Retreat A tranquil setting housed in a distinctive flower-shaped canopy that shields guests from sun and wind, The Retreat is ringed with 15 private cabanas designed as individual luxury living rooms that each feature a large HD flat screen television and a refrigerator stocked with a personalized selection of beverages.
Pool
Offering the perfect setting for a sunny afternoon, the swimming pool is surrounded by an expansive sundeck with chaise lounges, shaded seating, two large whirlpool spas, and is within steps of the Patio Grill. Sun loungers and cabanas are arrayed in a mix of sun and shade. A stage provides occasional live music for dancing.
Salon
All Seabourn ships offer a full-service Beauty Salon offering all traditional salon services including hairstyling, cut and color. Some of our favorites include the Fire and Ice Manicure and Pedicure using a combination of therapeutic cooling gels and the warmth of massage with a heated stone. The Elemis Sole Delight Foot Treatment with Pedicure, a rejuvenating therapy using warmed aromatherapy oils and the decadence of milk protein. Or, try the Elemis Frangipani Conditioning Hair and Scalp Ritual, used for centuries in Tahiti to soften the skin and hair.
Seabourn Conversations
Enjoy fascinating Seabourn Conversations sessions with guest experts from the fields of arts, history, science, and more.
Seabourn Square
A place to enjoy your newspaper or to socialize with your fellow passengers, Seabourn Square is what you're looking for.
Shops
Whether you're buying souvenirs for your friends at home or want a memento of your vacation, our Shops will have what you need. Shop for fashion and cosmetics at The Boutique, jewelry and fine watches at The Collection, or logo cruisewear at the Shop.
Spa & Wellness
Seabourn's Spa & Wellness with Dr. Andrew Weil is the first-ever program of its kind at sea. Each Seabourn ship's Mindful Living Coach is a certified yoga and meditation practitioner who will inspire and educate guests with orientations, seminars and classes during the voyage. Guests who participate in the Mindful Living Program will have their cruise experiences further enhanced by a holistic mind and body perspective. With Dr. Weil's guidance, our fleet-wide mindful living curriculum delivers an even greater degree of mind and body balance, ensuring that guests can break away, relax and rejuvenate while they travel, and offering them an experience that will continue to enrich their lives long after their voyage.
Ship's Registry: Bahamas
Passenger capacity: 600
Gross Tonnage: 40,350 grt.
Length: 690 feet
Breadth: 92 feet
Maximum speed: 15 knots
Maiden Voyage: 2016
Please note: Stateroom images and features are samples only. Actual furniture, fixtures, colors, configurations and window/porthole views may vary.
Guarantee Category
Description
For this option we select the location and specific suite for you, and notify you prior to departure. Guests are guaranteed to be assigned a suite in the category selected or higher.
Owner's Suite
Description
Owner's Suites feature full length window and glass door to private veranda, dining for four, separate bedroom, guest bath, two flat-screen TVs, pantry with wet bar, convertible sofa for one and whirlpool bath. Complimentary internet/Wi-Fi service.
Penthouse Suite
Description
All Penthouse Suite feature dining table for two to four and separate bedroom. Glass door to veranda, two flat-screen TVs, fully stocked bar, spacious bathroom with tub, shower and large vanity.
Penthouse Spa Suite (Some Accessible)
Description
Complimentary full-day access to The Spa at Seabourn. Serene area In-suite spa amenities Spa concierge service. All Penthouse Spa Suite feature dining table for two to four and separate bedroom. Glass door to veranda, two flat-screen TVs, fully stocked bar, spacious bathroom with tub, shower and large vanity.
Signature Suite
Description
Signature Suites feature expansive ocean views, forward-facing windows, dining for four to six, bathroom with whirlpool bathtub, guest bath, pantry with wet bar, and two flat-screen TVs. Complimentary Internet/Wi-Fi service. Plus one veranda.
Veranda Suite
Description
All Veranda Suites feature a full-length window and glass door to private veranda, comfortable living area, queen-size bed or two twin beds, dining table for two, walk-in closet, interactive flat-screen television with music and movies, fully stocked bar and refrigerator, makeup vanity, spacious bathroom with separate tub and shower.
Wintergarden Suite
Description
Wintergarden Suites feature large windows with ocean views, dining for six, bathroom with whirlpool bathtub, guest bath, Glass-enclosed solarium with tub and day bed, pantry with wet bar, and two flat-screen TVs. Complimentary Internet/Wi-Fi service. Plus one veranda.
Please note: Stateroom images and features are samples only. Actual furniture, fixtures, colors, configurations and window/porthole views may vary.
Please select the deck plan you will like to see below
Deck 12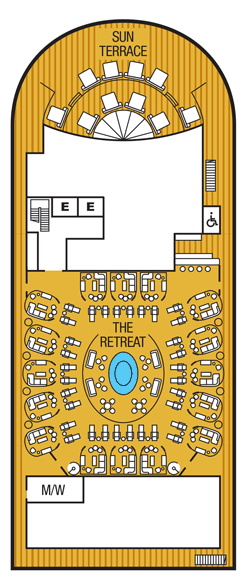 Destination
Mediterranean
History. It's everywhere you turn. Down narrow, cobble-stoned streets, atop rugged mountain cliffs just off the decks of your cruise ship. Escape all the pressures of civilization without missing out on any of its pleasures.

Your days ashore are invitations to adventure, education and the pure pleasure of seeing things you've only read about before. Visit castles, museums and galleries. Explore ancient cities through winding canals. From glorious gardens and gilded theaters to famous boulevards and fabled landmarks, you're in for a picture-perfect experience.

Rome (Civitavecchia), Italy
The port of Civitavecchia is the gateway to The Eternal City, where all roads lead. Mad traffic careens past monuments of the great civilizations of the past. You will want to see it all: the soaring inspiration of St. Peter's, the Vatican and the Sistine Chapel; the flow of life along the Spanish Steps, the Coliseum, the Via Veneto and Trevi Fountain. Be sure to leave time for la dolce vita in one of the piazzas.
Livorno (Florence/Pisa), Italy
From Livorno (Leghorn), your path leads through the rolling green hills of Tuscany to Florence, the flower of the Renaissance. The creative explosion happened right here, with masterworks by Michelangelo, Brunelleschi and Botticelli now landmarks of daily life. Ufizzi, Academmia, il Duomo: the art treasures of a golden age are commonplace to blessed Florentines.
Often called the "Pearl of the Riviera," this charming hideaway on the Ligurian Sea is a favorite vacation spot of many wealthy Europeans. Once a quiet fishing village, Portofino is now best known for its chic boutiques, wonderful outdoor restaurants, and beachside cliffs that are speckled with pastel-colored villas. An optional day trip by boat lets you explore the picturesque coastline villages of Paraggi and Santa Margherita.
Nearby the charming port of Sete is Carcassonne, the best surviving example of a medieval walled city which dates back to the time of the Roman Empire. While the knights and their horses have long been gone, their presence can still be felt as you walk along Carcassonne's winding streets. Explore the town's boutiques and cafes. Be sure to sample "cassoulet," a delightful combination of meats cooked with beans which is the city's specialty.
The major island in the chain known as the Balearics, Mallorca is Spain's sunny outpost in the Mediterranean. The town of Palma boasts a shady plaza near the Gothic Cathedral. Visit the Roman ruins and the Drach Caves nearby, or journey to the enchanting village of Valledemosa. Leave time to shop for lovely majolica faux pearls and hand-made lace.
Barcelona is the cultural heartland of Spain, yet its first language is Catalan, the native tongue of the proudly independent Catalonia region. Stroll down the shady, tree-lined Ramblas between street musicians and elegant bistros. Then perhaps visit the venerable Gothic cathedral, Picasso Museum or enjoy the architectural genius of Antonio Gaudi's Church of the Holy Family.
Gibraltar, United Kingdom
One of the "Pillars of Hercules," Gibraltar is an historic landmark with British and Spanish influences. Guarding the entrance to the Atlantic, the great rock still serves as Britain's threshold to the Mediterranean. Take a cable car to the top of the rock for a spectacular view of two continents as well as the famous Barbary apes.
Founded by Phoenicians in 1100 B.C., Cádiz may be the oldest continuously occupied city in the West. The Cathedral's gold dome dates from 1722, when New World treasures flowed here. But is also the gateway to the Moorish marvels of Seville: the Alcazar and Giralda Tower, the fountains and palaces of Maria Luisa Park, and the great Cathedral, whose altar is decorated with 4,000 pounds of gold from the Americas!
The "Gateway to Africa," located at its northwestern tip, Tangier is a fashionable resort that retains all of its age-old mystery and excitement. French and Islamic influences meet and merge in this fascinating old city. Mosques and minarets overlook the shadowy streets of the bazaar, while the higher part of town, with its broad boulevards and lovely parks, looks down on the ocean.
...The weather almost never becomes too hot or uncomfortable, and the sights and smells of the land are marvelous...It is also Spain's main naval base...The landscaped squares of Cartagena are so magnificent that you can spend hours just sitting and looking...The buildings and religious structures of the city add to its wonderful culture, and a walking tour of Cartagena is great fun.