21 Nights Mediterranean
departing from Rome (Civitavecchia), Italy
Cruise Line
Norwegian Cruise Line
Departing
Mon, Jan 18, 2021
Return Port
Dubai, United Arab Emirates
Ports of Call
Rome (Civitavecchia), Italy | Piraeus (Athens), Greece | Kusadasi (Ephesus), Turkey | Rhodes, Greece | Limassol, Cyprus...

Rome (Civitavecchia), Italy
|
Piraeus (Athens), Greece
|
Kusadasi (Ephesus), Turkey
|
Rhodes, Greece
|
Limassol, Cyprus
|
Ashdod (Jerusalem), Israel
|
Haifa, Israel
|
Port Said (Cairo), Egypt
|
Safaga (Luxor, Karnak), Egypt
|
Aqaba, Jordan
|
Muscat, Oman
|
Abu Dhabi, United Arab Emirates
|
Dubai, United Arab Emirates
Prices starting from
Inside

Oceanview

Balcony

Suite

$2,499

USD

$119.00

USD

per day

$2,999

USD

$142.81

USD

per day

$4,179

USD

$199.00

USD

per day

$4,579

USD

$218.05

USD

per day
Port charges of $500 included. Taxes and fees of $484 are not included.
Date

Date

Location

Location

Arrival

Arrival

Departure

Departure

Mon, Jan 18, 2021

CIVITAVECCHIA ROME

--

5:00 pm

Tue, Jan 19, 2021

AT SEA

--

--

Wed, Jan 20, 2021

PIRAEUS ATHENS

10:00 am

8:00 pm

Thu, Jan 21, 2021

KUSADASI

8:00 am

6:00 pm

Fri, Jan 22, 2021

RHODES

8:00 am

5:00 pm

Sat, Jan 23, 2021

LIMASSOL

8:00 am

5:00 pm

Sun, Jan 24, 2021

ASHDOD

6:00 am

10:00 pm

Mon, Jan 25, 2021

HAIFA

6:00 am

--

Tue, Jan 26, 2021

HAIFA

--

11:00 am

Tue, Jan 26, 2021

PORT SAID

11:00 pm

11:59 pm

Wed, Jan 27, 2021

SUEZ CANAL

3:30 am

--

Thu, Jan 28, 2021

SAFAGA

7:00 am

--

Fri, Jan 29, 2021

SAFAGA

--

7:00 pm

Sat, Jan 30, 2021

AQABA

6:00 am

8:00 pm

Sun, Jan 31, 2021

AT SEA

--

--

Mon, Feb 01, 2021

AT SEA

--

--

Tue, Feb 02, 2021

AT SEA

--

--

Wed, Feb 03, 2021

AT SEA

--

--

Thu, Feb 04, 2021

AT SEA

--

--

Fri, Feb 05, 2021

MUSCAT

7:00 am

3:00 pm

Sat, Feb 06, 2021

ABU DHABI

10:00 am

11:59 pm

Sun, Feb 07, 2021

DUBAI

6:00 am

--

Mon, Feb 08, 2021

DUBAI

8:00 am

--
Click on a port for more information
Vendor
Norwegian Cruise Line
General
Norwegian Cruise Line is the innovator in cruise travel with a 51-year history of breaking the boundaries of traditional cruising. Most notably, Norwegian revolutionized the cruise industry by offering guests the freedom and flexibility to design their ideal cruise vacation on their schedule with no set dining times, a variety of entertainment options and no formal dress codes. Today, Norwegian invites guests to enjoy a relaxed, resort-style cruise vacation on some of the newest and most contemporary ships at sea with a wide variety of accommodations options, including The Haven by Norwegian, a luxury enclave with suites, private pool and dining, concierge service and personal butlers. Norwegian Cruise Line sails around the globe, offering guests the freedom and flexibility to explore the world on their own time and experience up to 27 dining options, award-winning entertainment, superior guest service and more across all of the brand's 16 ships.
Recently, the line was named "Europe's Leading Cruise Line" for the tenth consecutive year, "World's Leading Large Ship Cruise Line" for the sixth consecutive year, the "Caribbean's Leading Cruise Line" for the fifth consecutive year, as well as "World's Leading Cruise Line" and "North America's Leading Cruise Line" both for the second straight year by the World Travel Awards. Norwegian's next new build, the highly anticipated Norwegian Bliss, will be delivered in April 2018 featuring many firsts-at-sea for the global market including the largest race track at sea, award-winning Broadway entertainment, two observation lounges for guests to enjoy stunning ocean and glacier views and more. Norwegian will introduce an additional new "Breakaway Plus" Class cruise ship in 2019 and has six additional ships on order for delivery beginning in 2022.
Overview
Extensively refurbished from top to bottom, Norwegian Dawn offers the ultimate Freestyle cruising experience. Dine in Los Lobos Cantina, an upscale Mexican restaurant only available on Norwegian Dawn. Drop by The Cellars, a Michael Mondavi Family Wine Bar for a wine tasting. Or take lady luck for a spin in The Dawn Club Casino. Offering a wide range of spacious accommodations, there's rooms to fit every size family and budget. Let Norwegian Dawn whisk you away to Bermuda, Canada & New England, and The Caribbean.
Cafes, Bars, and Lounges
Atrium Cafe & Bar Amid the hustle and bustle of the Atrium, enjoy something sweet. This is a morning and late-night favorite serving coffees, espressos, cappuccinos and more. Or indulge in freshly baked cookies, cakes and pastries.
Bliss Ultra Lounge It's electric - all night long. Go clubbing till the wee hours at Bliss Ultra Lounge. From the moment you walk through the lit tunnel and start hearing the music pumping, you'll feel the energy. And so will the glowing walls and bar which illuminate to the intensifying beats.
The Cellars - A Michael Mondavi Family Wine Bar Pull up a stool and pair your favorite vintage with soothing waves. Sample a Merlot as you laugh with some of your closest friends. Or elevate your wine IQ with programs meant for experts and novices alike at the Tasting Table. For four generations, the Mondavi name has been intimately linked with prestige wine making in Napa Valley. And now, they're bringing their best blends and unparalleled knowledge to Norwegian Dawn.
More Choices
Topsiders Bar & Grill
Sugarcane Mojito Bar
Sake Bar
O'Sheehan's Neighborhood Bar & Grill
Juice Bar
Bimini Bar & Grill
Gatsby's Champagne Bar
Activities
Allow yourself to run ramped while you're aboard Norwegian's Dawn. You and yours are invited to get carried away utilizing all of the activity possibilities that this beautiful ship has to offer. If you're well over due for a little relaxation by being pampered, you will have the opportunity to experience the perks of our Full Service Spa. For the wine lovers, you will definitely fall in love with the our Wine Cellar where you'll have the chance to do a little wine tasting and maybe find a new favorite.
Variety of daily activities led by cruise staff
Port & shopping lectures and shore excursions
Atrium gift shop & 20,000 sq. ft department store for duty-free shopping, jewelry, souvenirs and logo items
Wine Cellar offers wine tastings, displays and sales
Photo Gallery and Photo Shop for cruise photos, film and developing
1 outdoor & 1 indoor swimming pool and whirlpools for total relaxation
Kid's Water World pool area with space age theme
Deck sports include volleyball, basketball, golf driving range, batting cage, shuffleboard, jogging track
Full service Barong Spa includes extensive fitness center, indoor pool, aerobics, sauna & steam rooms and beauty parlor
Conference Center has main boardroom and 4 meeting rooms
Library for quiet reading
Card Room for cards, games & puzzles
Wedding Chapel for weddings or vow renewals
Dining
(Complimentary)
Bamboo This elegant adventure into Pan Asian fare is a world-class experience in the finest Japanese, Thai, Chinese cuisine, plus many more authentic Asian dishes.
Venetian (Main Dining Room) Offering beautifully crafted contemporary dishes and carefully selected Chef's Signature Dishes, this Main Dining Room has everything you're looking for in a dining experience. And then some. Plus, with a grand Italian Palazzo complete with crystal chandeliers and a sweeping staircase, the atmosphere inside Venetian is just as impressive as the culinary delights found on the menu.
Bimini Grill Come as you are, even in your swimsuit, to this casual, Key West-style beach bar serving grilled favorites like burgers and hot dogs - overlooking the pool and with great ocean views.
More Choices
O'Sheehan's Neighborhood Bar & Grill
Room Service
Garden Cafe
Bamboo
Specialty Dining (Additional Charge)
Los Lobos Enjoy an authentic Mexican dining experience at Los Lobos. Start with fresh guacamole made tableside and a delicious variety of handcrafted margaritas. Then dine on traditional favorites including tacos and enchiladas or try one of our house specialties like carne asada marinated in guajillo chiles and tequila.
Cagney's Steakhouse Steak is the standard at our American-style steakhouse. Sip your favorite cocktail as you select from premium choice cuts of Angus beef perfectly prepared. And don't forget to order Cagney's famous Parmesan truffle fries.
La Cucina Buona sera! Enjoy the finest ingredients at our vibrant Italian ristorante. Dine on classics like pasta carbonara or osso buco with gremolata. Then indulge in the affogato. Your good evening just got better.
More Choices
Sushi
Moderno Churrascaria
Atrium Cafe & Bar
Le Bistro
Teppanyaki
Entertainment
Elements
Come and experience one of Norwegian Cruise Line's favorite production show - ELEMENTS! From mesmerizing magic to the visual feast of flying to exciting music and dance, this dazzling show will revel in the four elements of Earth, Air, Water & Fire. This show is an incredible spectacle of wonder, enchantment and sensual delight.
Soul Rockin' Nights
Rock the night away with this high energy party that celebrates the sounds of soul to the raw force of Rock 'n' Roll. Kick up your cowboy boots, then chill out to the sweet sounds of folk and get thrown back with the power rock of the 80's!
Showdown
Your vote counts in this mock singing competition. Cheer on your favorite singer as he or she belts out Motown favorites in hopes of taking home the Showdown title. Will they sway your vote with their engaging personality? Find out!
Activities
Entourage Teen Club A hip place for teens to hang out comes complete, video, jukebox, fooseball table and air hockey. By night The Club turns into a teen disco.
Splash Academy Get into the zone with the newly remodeled Splash Academy. Kids can watch movies at the cinema, have a dance party at the interactive dance mat along and enjoy an open space for active games.
Stardust Theater It's show time! And we've got a really big show for you at the Stardust Theater. A stunning two-story main show lounge with a stage headlines the best entertainment at sea. The Stardust can also be used for large-group meetings by day.
Shopping
Colombian Emeralds International
Each of our gem stones, whether they be emeralds, diamonds, saphires or rubies, convey exactly the right sentiment for that special moment. We also carry top brand timepieces at duty free prices. Come visit us and get up to 70% savings.
Galleria Shops
Need a new bathing suit? How about a surprise gift for your sweetheart? The Galleria Shops is a department store that offers a wide selection of brand name and specialty goodies.
Tradewinds
This shopping destination is where you can find a nice selection of watches, cosmentics, perfumes and more!
More Choices
Havana Club Cigar Bar
Hot Tubs
Internet Cafe
Jogging/Walking Track
Lap Pool and Jacuzzi
Mandara Spa & Salon
Pulse Fitness Center
Spa Thermal Suite
T-Rex Kid's Pool
The Boardroom & Meeting Rooms
The Library
The Oasis Pool
Dawn Club Casino
Basketball/Volleyball Court
Video Zone
Passenger Capacity: 2,340 (double occupancy)
Gross Tons: 92,250
Overall Length: 965 feet
Max Beam: 125 feet
Draft: 28 feet
Engines: Diesel Electric
Cruising Speed: 22.5 knots
Crew: 1,032
Refurbished: 2016
Please select the deck plan you will like to see below
Deck Fourteen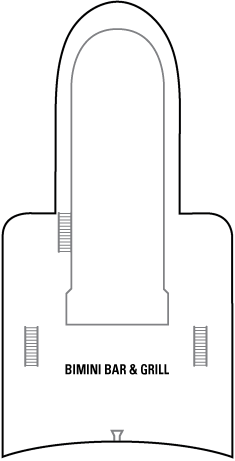 Destination
Mediterranean
History. It's everywhere you turn. Down narrow, cobble-stoned streets, atop rugged mountain cliffs just off the decks of your cruise ship. Escape all the pressures of civilization without missing out on any of its pleasures.

Your days ashore are invitations to adventure, education and the pure pleasure of seeing things you've only read about before. Visit castles, museums and galleries. Explore ancient cities through winding canals. From glorious gardens and gilded theaters to famous boulevards and fabled landmarks, you're in for a picture-perfect experience.

Rome (Civitavecchia), Italy
The port of Civitavecchia is the gateway to The Eternal City, where all roads lead. Mad traffic careens past monuments of the great civilizations of the past. You will want to see it all: the soaring inspiration of St. Peter's, the Vatican and the Sistine Chapel; the flow of life along the Spanish Steps, the Coliseum, the Via Veneto and Trevi Fountain. Be sure to leave time for la dolce vita in one of the piazzas.
Piraeus is the seaport for Athens, the capital of western civilization, which boasts a fantastic mix of classical ruins and vivacious modern life. In a single day, you can climb the hill of the Acropolis to wonder at the Parthenon, join the lively Athenians in Constitution Square, and then find a welcoming taverna for some spirited bizouki music, plenty of ouzo to drink, and with luck, energetic Greek dancing.
Kusadasi (Ephesus), Turkey
This charming, picturesque resort where Antony and Cleopatra used to vacation is best known as the port for the ancients ruins of Ephesus - one of the world's most wondrous archaeological sites. Explorations should include such masterpieces as the Great Amphitheatre, where St. Paul addressed the Ephesians, the Library of Celsus, and the temples of Athena and Apollo - all connected by marble streets rutted by the wheels of countless chariots.
Legend has it that Apollo blessed this isle with sunshine and beauty. True to the myths, the "Island of Roses" is rich in magnificent scenery and umbrella-lined beaches. Take an excursion to Lindos, where high on a hill rises an ancient acropolis dedicated to the goddess Athena. You will also want to see the medieval Old Town, once home to the Crusading Knights of St. John, and tour the Grand Master's Palace, an Italian restoration famed for its superb mosaic floors.
The birthplace of Aphrodite, the goddess of love and beauty, is nearby on this island - the third largest in Europe. Explore what is now called the Medieval Museum, a restored castle where Richard the Lionheart married in 1191. Visit a mosque, browse the local artisan shops and take in the natural and architectural delights of Cyprus.
Ashdod (Jerusalem), Israel
Perched on sand dunes, Ashdod is a gateway to the Holy Land. From here, you can journey to Jerusalem and Bethlehem and walk the Via Dolorosa and see the stations of the cross. Among the many other sites of interest are the Western Wall, the Church of the Holy Sepulcher and, in Bethlehem, the Church of the Nativity.
A lovely seaport in its own right, Haifa is a departure point for Tel Aviv and Holy Land sightseeing. Jerusalem beckons with the Mount of Olives and the Western Wall. Jericho, Nazareth, Bethlehem, and the crusader city of Acre are also within reach.
At the entrance to the Suez Canal, Port Said is a bustling city and a free port. To the south, Cairo and the ancient monuments of the Egyptian empire have fascinated visitors throughout the centuries. The mystifying Sphinx and the pyramids of Giza, over four thousand years old, stand majestically on the outskirts of the city at the edge of the desert. Cairo's Museum of Antiquities holds one of the finest collections of artifacts in the world, including the astounding treasures of King Tutankhamen's tomb.
Safaga (Luxor, Karnak), Egypt
Situated on the Red Sea along the East Coast of Egypt, Safaga serves as a gateway to the magnificent antiquities of Luxor and Karnak. Site of the ancient metropolis of Thebes, Luxor has a history which goes back to 2000 B.C. Like Babylon and Nineveh, it was considered one of the great cities of the ancient world, but of the three it is only here that the splendor survives. Marvel at the massive columns and statues. Stroll down the Avenue of the Sphinxes to the grand ceremonial gateway of the Temple of Amun-Ra. Sail across the Nile to the Valley of the Kings, sacred burial ground of the Pharaohs.
The town has changed in recent times, but a glimpse of Muscat's past shows in the old houses lining the Mutrah corniche above the harbor, and in the traditional market souks. See the Sultan's Palace, the National Museum and perhaps indulge in Amonage or Ubar perfumes produced here-the world's most expensive.
Abu Dhabi, United Arab Emirates
Before the 1960s, Abu Dhabi was only a bleak fishing and pearling village. Now everything is modern, sleek and shiny and makes up 85% of the total area of the UAE. It has become the richest and most politically important of the UAE's seven emirates. It is a big city for doing business and considered safe and secure for foreigners as long as you avoid demonstrations and political gatherings. It has been accused of being a soulless place, but to be honest it does have its attractions. Some key attractions are the Al-Hosn Palace used by the Cultural Foundation, the beautiful Capital Garden of the Corniche, and the Women's Craft Centre where you will be able to shop for some very detailed souvenirs.

Dubai, United Arab Emirates
Despite the primeval desert that surrounds it, spirited Dubai has spent its oil income on modern architecture based on soaring Islamic spires. Explore the souk bazaars for gold and silks, Persian and Afghani rugs and more. And be sure to visit the Juneira Mosque.