17 Night South America
departing from Rio de Janeiro, Brazil
Cruise Line
Silversea Cruises
Departing
Sat, Mar 07, 2020
Return Port
San Juan, Puerto Rico
Ports of Call
Rio de Janeiro, Brazil | Bahia de Salvador, Brazil | Recife, Brazil | Fortaleza, Brazil | Bridgetown, Barbados |...

Rio de Janeiro, Brazil
|
Bahia de Salvador, Brazil
|
Recife, Brazil
|
Fortaleza, Brazil
|
Bridgetown, Barbados
|
St. Georges, Grenada, West Indies
|
Fort-de-France, Martinique
|
St. John's, Antigua
|
Gustavia, St. Barts
|
San Juan, Puerto Rico
Date

Date

Location

Location

Arrival

Arrival

Departure

Departure

Sat, Mar 07, 2020

Rio De Janeiro

--

6:00 pm

Sun, Mar 08, 2020

Day At Sea

--

--

Mon, Mar 09, 2020

Day At Sea

--

--

Tue, Mar 10, 2020

Salvador De Bahia

8:00 am

11:00 pm

Wed, Mar 11, 2020

Day At Sea

--

--

Thu, Mar 12, 2020

Recife

8:00 am

11:00 pm

Fri, Mar 13, 2020

Day At Sea

--

--

Sat, Mar 14, 2020

Fortaleza

8:00 am

6:00 pm

Sun, Mar 15, 2020

Day At Sea

--

--

Mon, Mar 16, 2020

Day At Sea

--

--

Tue, Mar 17, 2020

Ile Royale

12:00 pm

6:00 pm

Wed, Mar 18, 2020

Day At Sea

--

--

Thu, Mar 19, 2020

Bridgetown

9:00 am

6:00 pm

Fri, Mar 20, 2020

St George's

8:00 am

6:00 pm

Sat, Mar 21, 2020

Fort-de-france

8:00 am

6:00 pm

Sun, Mar 22, 2020

St. John's

8:00 am

6:00 pm

Mon, Mar 23, 2020

Gustavia, St Barthelemy

8:00 am

6:00 pm

Tue, Mar 24, 2020

San Juan

8:00 am

5:00 pm
Click on a port for more information
General
Silversea is committed to making your voyage unforgettable by taking you to the most beautiful destinations on the planet in the comfort and elegance that you deserve.
Silversea''s small luxury ships are designed for those who delight in the thrill of discovery while indulging mind and body in the most lavish surroundings imaginable. All accommodations are spacious, ocean-view suites that include butler service,and most include private verandas. Silversea voyages and cruise expeditions sail to over 900 destinations on all seven continents, more than any other cruise line.
OUR PERSONALISED SERVICE REMAINS THE JEWEL IN OUR CROWN
Breeze through embarkation and step into the warm welcome of white-gloved staff. Enjoy a flute of champagne as you are escorted to your suite. Renowned for culinary excellence and innovative spirit, Silversea''s luxury cruises offer a choice of open-seating dining options throughout the fleet, as well as several specialty venues aboard all non-expedition ships. Enjoy the ease, convenience and value of an all-inclusive cruise fare that includes almost all of your discretionary onboard expenses.
INTIMATE LUXURY SHIPS: Our ships range in size from 50 to 304 suites to ensure each of our guests finds the perfect balance between choice and intimacy
OVER 900 DESTINATIONS WORLDWIDE: With over 900 destinations across all 7 continents, wherever you want to go, you can get there with Silversea
Overview
Authentic experiences. Simple pleasures. Shared moments. Silversea's Millennium Class luxury cruise ships Silver Shadow and Silver Whisper offer you freedom and space to design your day. Slightly larger in size than ships Silver Cloud and Silver Wind, Silver Shadow retains Silversea's essence spacious suites, a complement of only 382 guests, superior service paired with a lively cosmopolitan atmosphere and enhanced amenities. Aboard the Silver Shadow, energize body and soul with complimentary Pilates and yoga in the expanded fitness center. Savor fine wines and regional culinary creations in Le Champagne, the only Wine Restaurant by Relais & Chateaux at sea. Or simply gaze at endless ocean views. Relish, relax, recharge ... repeat ... Silver Shadow.
Entertainment
Aboard the Silver Shadow, guests will find a wide selection of stellar entertainment ranging from energetic production shows to classical music concerts in The Show Lounge; intimate piano recitals, jazz and cabaret in The Bar; and local performers and folkloric shows that truly complement the wines, cuisine and cultures experienced on your voyage. Every evening, The Bar and The Panorama Lounge offer dancing to a range of live musical styles for every taste, from ballroom and dinner dancing to rock and roll favorites and club mixes. The Humidor offers the perfect venue to enjoy a selection of cigars, exceptional cognacs, fine armagnac, exquisite grappa, rare vintage ports and more. Moonlight Movies on deck are also offered on select evenings.
Every Silversea cruise features regionally specific lectures by noted historians, ambassadors, state leaders, authors and geographers - all experts and each sharing special insights into areas of the world they know intimately. Guest chefs and wine experts also join special Culinary Arts and Wine Series Voyages.
Activities
Onboard choice reigns - the freedom to do everything or nothing. Pamper yourself at our beauty salon. Find the perfect bauble in our boutique. Test your luck in our casino. Enjoy an invigorating workout. Curl up with a good book in our library. Or simply soak up the sun on the pool deck. At Silversea, the choice is always yours.
Public Areas
Ovservation Lounge
Set on the highest level at the very top of the ship, this is a quiet space fro reading and reflection while being dazzled by the undulating seascapes that are a constituent of the life on board.
Boutique
There is a wealth of luxury shopping experiences aboard all Silversea ships, featuring the most distinctive and appealing brands from across the globe.
Show Lounge
Applaud a broad spectrum of entertainment - from full-scale production shows and classical soloists, to cultural entertainment and feature films.
Panorama Lounge
Relax and unwind in the Panorama Lounge, a sophisticated yet amicable space offering beautiful ocean views as you enjoy your cruise.
Card Room/Conference Room
Whether it is for a card tournament or conference, Silversea will provide a dedicated space for the perfect guest experience.
Zagara Spa
Come and indulge in a luxurious spa treatment. Facials, body wraps, massages: the spa is the perfect place to unwind.
The Bar
No cruise is complete without meeting new people. Enjoy complimentary drinks and live music at the bar while meeting other guests.
Library
Enjoy a selection of hardcover books, magazines, newspapers, and more during your luxury cruise.
Casino
Try your luck in Silversea' on-board Casino, featuring a champagne reception and choice of games.
Beauty Salon
Maintain your fresh look throughout your luxury cruise at the Beauty Salon. Services are available for men and women.
Pool Deck
Chaise lounges arranged in the sun or shade. Bubbling whirlpools. The pool water refreshing in warmer climates, heated for cooler weather.
Reception
Be sure to visit the Reception area, where our experts can provide invaluable information to help you get the most out of your cruise.
Fitness Centre
The Fitness Centre offers world-class equipment, classes, and personalized services.
Connoisseurs Corner
If you appreciate good cognac or premium cigars, be sure to visit the Connoisseur's Corner to see the ship's exceptional selection.
Dining
La Terrazza
On board this luxury cruise ship a divine selection of Italy's best cuisine is served a la carte in La Terrazza. Authentic recipes and the freshest ingredients come together with flair and passion aboard this luxury cruise - a flavourful expression of Silversea's distinctive Italian heritage. La Terrazza uses buffalo mozzarella from Naples, organic balsamic vinegar and olive oil from Umbria, and air-dried ham out of Parma. The Emilia-Romagna region also produces Silversea's 24-month aged Parmigiano Reggiano, while the pasta is made daily right on board. Open seating for breakfast and lunch. Reservations required for dinner.
The Grill
One of the healthiest cuisines to exist, The Grill features lava stone cooking at its finest. Sourced from volcanic rock and placed in an oven to reach an optimum temperature of 400o C, The Grill invites guests to cook their food directly at their table. Place your meat, fish or vegetables on top of the grill stone or inside the soup bowl, and then simply cook to your very own taste. Every bite is cooked to perfection, time after time. With the stone cooking available in the evenings only, The Grill becomes a daytime rotisserie and gourmet salad and burger bar, offering build your own burgers from the best selections of meat.
The Restaurant
Sparkling with silver, crystal and candlelight, Silversea's main dining room serves contemporary, international cuisine with sophisticated elegance and impeccable service. Menus feature regional specialties unique to the voyage destination, for example, Roasted Chilean Sea Bass while cruising the Chilean fjords and Indian Chicken Korma en route to Mumbai. The Restaurant aboard this luxury cruise ship offers open-seating dining, which means there are no assigned times, no assigned tables. You are free to dine when, where and with whom you please.
La Dame
La Dame features a bespoke menu by our top chefs, and is the highest expression of excellence of French dining. Indulge in an evening where fine wines are complemented by a set tasting menu of regionally inspired dishes in an intimate, elegant setting. La Dame echos the traditions and cultures embedded in the French gastronomic past, while respecting its bright culinary future.
*Per guest reservation fee of US$60. Please visit My Silversea to make your reservations.
Crew: 302
Officers: European
Guests: 388
Tonnage: 28,258
Length: 610 ft/ 186 m
Width:81.8 ft/ 24.9 m
Speed: 18.5 knots
Passenger decks: 7
Built: 2000
Registry: Bahamas
Please note: Stateroom images and features are samples only. Actual furniture, fixtures, colors, configurations and window/porthole views may vary.
Veranda Suite
Description
A Silversea signature, the Veranda Suite is spacious and welcoming. Floor-to-ceiling glass doors open onto a furnished private teak veranda along the suite. Each spectacular sunset feels like it is yours alone. Some Veranda Suites accommodate three guests. Veranda 3 and 4 offer preferred central location with identical accommodation to Veranda 1 and 2.
Grand Suite 1 (One Bedroom)
Description
Expertly designed and exquisitely appointed. Ideal for entertaining friends while you cruise or enjoying a quiet dinner at home. Available as a one-bedroom configuration or as two-bedrooms (as illustrated) by adjoining with a Silversea Veranda Suite.
Grand Suite 2 (Second Bedroom Addition)
Description
Adjacent Veranda Suite for use as second bedroom.
Medallion Suite
Description
A mark of distinction. Sumptuous. Spacious. Rich textures and panoramic views surround you with distinguished luxury. An extravagant suite for an extravagant cruise.
Owner's Suite 1 (One Bedroom)
Description
The name Owner's Suite says it all. A stylish apartment. Prestigious and classic. For those who seek the superlative level of space, comfort and service on board. Available as a one-bedroom configuration or as two-bedrooms (as illustrated) by adjoining with a Vista Suite.
Owner's Suite 2 (Second Bedroom Addition)
Description
Adjacent Vista Suite for use as second bedroom.
Royal Suite (One Bedroom)
Description
Stately describes the Royal Suite. Commanding and majestic. Perfect for entertaining. Enough living space to roam. The pinnacle of good living. Available as a one-bedroom configuration or as two-bedrooms (as illustrated) by adjoining with a Veranda Suite.
Royal Suite 2 (Second Bedroom Addition)
Description
Adjacent Veranda Suite for use as second bedroom.
Silver Suite
Description
Stylish and sophisticated. Separate dining and living rooms. Larger verandas. Situated midship. Perfection in design for comfortable living. Silver Suites accommodate three guests.
Terrace Suite
Description
With a shared veranda, this accommodation provides an easy transition from peace and privacy to the energy and excitement of the onboard social scene.
Vista Suite
Description
A quiet sanctuary. The sitting area of the Vista Suite has plenty of room to relax. Large picture windows frame panoramic ocean views. The perfect backdrop for breakfast in bed.
Please note: Stateroom images and features are samples only. Actual furniture, fixtures, colors, configurations and window/porthole views may vary.
Please select the deck plan you will like to see below
Deck Ten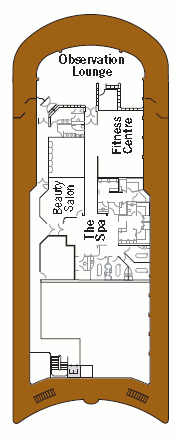 Destination
South America
South America is huge, with scenic wonders that would impress even the most jaded traveler, cosmopolitan cities and native villages, snow-capped mountains, deserts and lush rain forests, miles of sandy beaches and areas so isolated a visitor feels swept back in time.

There are many options to cruising South America, and there is no better way to explore this vast continent than on a cruise vacation.

Undoubtedly the highlight of everyone's South American experience, glittering Rio is a city that enchants mind, body and soul. Radiant beaches, like Ipanema and Copacabana, stretch like bejeweled arcs around the city's perimeter. The monumental 120-foot statue of Christ the Redeemer towers over Rio atop Corcovado Mountain. Take a cable car up Sugarloaf Mountain for stunning panoramic views of the mountains, beaches and skyline. Visit world-renowned nightclubs where samba bands and disco dancers jump all night long.
Bahia de Salvador, Brazil
Salvador is a dynamic collage of diverse religious and cultural groups, colorful open-air markets, tropical flowers, majestic colonial buildings, golden-sand beaches and the bubbling sensuality of the Bahian people. Visit the Sao Francisco Chapel, whose interior is paved with gold. Sample Salvador's Afro-Brazilian cuisine, including such mouth-watering specialties as "ensopada" (seafood poached in fresh coconut milk) and "vatapa" (spicy fresh shrimp).
Known as the "Venice of Brazil," lovely Recife is built on islands and connected by bridges. The tropical city is graced with churches from its Portuguese colonial past, with their frescoes and bright tiles. Browse the teeming market, spend the day at popular Boa Viagem Beach, or visit the beautiful suburb of Olinda, a perfectly intact 16th century town.
This 16th-century Portuguese town offers the most exquisite handmade lace and embroidery in all Brazil. In addition to its wonderful handicrafts, Fortaleza offers some of the loveliest golden beaches on Brazil's northeast coast. Take a drive along the coast to Brabco, where the sand dunes are beautified by watefalls. Dotting the coastline, you'll see many "jangadas," rustic fishing craft that are the unofficial symbol of the state.
The Bajan British accent is very distinctive, reflecting both the Scepter'd Isle and the lovely one they live on. Barbados still has lovely parish churches, great manor houses and a proper Trafalgar Square along with white-sugar beaches and waving fields of cane.
St. Georges, Grenada, West Indies
Called the "Spice Island" for its abundance of cinnamon and nutmeg, still sold at the waterfront market, Grenada is spicy in many other ways. St. George's has historic buildings in brick and mellow stone, and one of the loveliest harbors in the Caribbean. The coastline is full of secluded coves, while the mountainous interior is rich in rainforests and frothy rivers.
Fort-de-France, Martinique
St. John's, Antigua is one of the oldest trading posts in the Caribbean Sea. It is a mixture of restored buildings that date back to the 1600s and some more modern buildings. One of the great things about St. John's is that most of the sights are within walking distance; so go explore the town as soon as you disembark. As you take a stroll along the streets lining the wharf, you will notice vendors hawking everything from clothing to local crafts, artwork, and jewelry. The Public Market is arrayed with an assortment of tropical fruits that you may not recognize. If you are up for a little bit adventure, sample something that appeals to you. Just make sure to ask if it needs any preparation first.

The tiny island of St. Barts is picture-perfect. So much so that it has become a haunt for the very rich who come for the privacy, gorgeous beaches and exquisite French cuisine. It has over 20 magnificent beaches, linked roads that are hilly and narrow. The quaint streets of the Lilliputian port of Gustavia lead past small markets and bakeries. Included among these markets are dozens of small shops selling French perfumes, sportswerar, watches, and crystal. It is no wonder why the port of Gustavia is preferred by many of the luxury cruise lines as a port-of-call.

The fortress of El Morro guards the harbor against long-gone Sir Francis Drake and his British privateers. The colorful streets of Old San Juan retain the Latin flavor of its seafaring past, when this was the heart of the Spanish Main. Sample the fiery rum made here, or indulge in an icy treat made from fresh tropical fruit and enjoy the Caribbean atmosphere.