19 Nights Mediterranean - Eastern
departing from
Cruise Line
Regent Seven Seas Cruises
Departing
Thu, May 28, 2020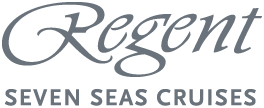 Date

Date

Location

Location

Arrival

Arrival

Departure

Departure

Thu, May 28, 2020

BARCELONA, SPAIN

--

7:00 pm

Fri, May 29, 2020

PALMA DE MALLORCA, SPAIN

8:00 am

5:00 pm

Sat, May 30, 2020

SETE, FRANCE

10:00 am

8:00 pm

Sun, May 31, 2020

TOULON, FRANCE

8:00 am

6:00 pm

Mon, Jun 01, 2020

MONTE CARLO, MONACO

7:00 am

8:00 pm

Tue, Jun 02, 2020

PORTOFINO, ITALY

7:00 am

6:00 pm

Wed, Jun 03, 2020

FLORENCE/PISA (LIVORNO), ITALY

8:00 am

8:00 pm

Thu, Jun 04, 2020

ROME (CIVITAVECCHIA), ITALY

6:00 am

8:00 pm

Fri, Jun 05, 2020

SORRENTO/CAPRI, ITALY

8:00 am

6:00 pm

Sat, Jun 06, 2020

MESSINA (SICILY), ITALY

7:00 am

5:00 pm

Sun, Jun 07, 2020

CRUISING THE MEDITERRANEAN SEA

--

--

Mon, Jun 08, 2020

CRUISING THE MEDITERRANEAN SEA

--

--

Tue, Jun 09, 2020

JERUSALEM (HAIFA), ISRAEL

6:00 am

--

Wed, Jun 10, 2020

JERUSALEM (HAIFA), ISRAEL

--

8:00 pm

Thu, Jun 11, 2020

LIMASSOL, CYPRUS

7:00 am

4:00 pm

Fri, Jun 12, 2020

RHODES, GREECE

9:00 am

6:00 pm

Sat, Jun 13, 2020

CRUISING THE MEDITERRANEAN SEA

--

--

Sun, Jun 14, 2020

VALLETTA, MALTA

8:00 am

4:00 pm

Mon, Jun 15, 2020

CRUISING THE MEDITERRANEAN SEA

--

--

Tue, Jun 16, 2020

BARCELONA, SPAIN

7:00 am

--
Click on a port for more information
Vendor
Regent Seven Seas Cruises
General
Regent Seven Seas Cruises is the world's most inclusive luxury experience with a five-ship fleet that visits more than 450 destinations around the world. The final phase of Regent Seven Seas Cruises $125 million fleet-wide refurbishment was recently completed, elevating the elegance of its fleet to the standard set by the all-balcony, all-suite Seven Seas Explorer, which entered service on July 20, 2016. Seven Seas Explorer is joined by all-balcony, all-suite sister-ships Seven Seas Voyager, Seven Seas Mariner, and all-suite, 90 percent-balcony Seven Seas Navigator. In early 2020, Regent will perfect luxury with the launch of Seven Seas Splendor.
With headquarters in Miami, Regent Seven Seas Cruises is owned by Norwegian Cruise Line Holdings Ltd., a diversified cruise operator of leading global cruise lines Norwegian Cruise Line, Oceania Cruises and Regent Seven Seas Cruises. These brands operate a combined 25 ships with approximately 50,400 lower berths visiting more than 510 destinations worldwide. The Company will introduce seven additional ships through 2025, and has an option to introduce two additional ships for delivery in 2026 and 2027.
Overview
Arriving February 2020
Our newest ship, Seven Seas Splendor is the next iteration of luxury cruising, from her elegant decor to the crowning Regent Suite - she'll be luxury perfected.
Activities
Activities Travel opens our eyes to the world. It is an exhilarating experience to witness the world's wonders first-hand As our guest, we ensure that your journey of discovery expands beyond the extraordinary experiences ashore to include an abundance of unforgettable moments. Thought-provoking lectures, specialty excursions and well-designed classes are just a few of the areas in which we're constantly developing and refreshing our enrichment programming to ensure you experience the best on every journey. Whichever voyages you choose, take the opportunity to glean knowledge from the wide range of experts we've partnered with to bring you new insights and fascinating opinions, from noted art historians and leading authors to former diplomats and acclaimed entertainment professionals. Listen, learn and even engage with these brilliant minds and talented connoisseurs on a personal level.
Entertainment
Entertainment As the sun sets and the lights go up, the ship comes alive with dynamic productions featuring our own talented cast of high-caliber performers and guest entertainers. Enjoy the full variety of our evening entertainment designed to engage and delight, from live musical shows to homage-style performances of both classic and current hits. Reminisce with friends about the day's excursions as your favorite bartender serves your signature cocktail or head into the elegant casino to beat the house at blackjack or bet on red at the roulette wheel. Step onto the floor and dance the night away with the incomparable Regent Signature Orchestra delivering crowd-pleasing, themed dance parties. Step up to the stage and steal the spotlight with a rendition of your favorite karaoke song or wind down with a nightcap and the warm sounds of a grand piano in one of the lounges.
Spa & Fitness
Spa & Fitness Certified fitness experts lead popular exercise classes, such as Pilates, yoga and aerobics, and are on hand to offer advice and demonstrate the use of fitness equipment. In addition to working out at the Fitness Center, a variety of other sports-related activities like golf nets, shuffleboard, paddle tennis and a full-circle jogging track appeal to the active competitor in us all. The Pool Deck aboard Seven Seas SplendorTM is both spacious and inviting. Curl up with a book in your private circular pod and draw down its voile curtains for a little extra privacy. And, if you need anything at all, our attentive and helpful staff is on hand. For the ultimate reward, pamper yourself at our indulgent spa. Its range of treatments includes massages, facials, therapeutic bodywork, aromatherapy, ayurvedic and seaweed treatments.
Dining
Pacific Rim This dramatic specialty restaurant features intricate architectural details, wood carvings and an immense art installation of a mythical dragon, setting the tone for the culinary journey that awaits you. The menu brings life to rich culinary traditions with a diverse array of delightfully prepared, Pan-Asian dishes, from the enhanced smoking presentation of dry ice sashimi and the sweet and spicy medley of sauces with a re-imagined duck spring roll to the new Thai red chicken curry with a delicious coconut cream and crispy shallots; each bite will surely gratify.
Chartreuse Experience this distinct specialty restaurant featuring classic French fare with a modern twist. Savor new flavors to Chartreuse like frog legs in a garlic cream sauce with rutabaga or bite into the tender veal rack of loin with caramelized endive, grape chutney and the earthy tones of a walnut veal jus sauce. Chartreuse evokes memories of a chic Parisian fine-dining restaurant discovered during an evening stroll along the Seine or just off the Champs-Elysees.
Prime 7 Handsomely decorated with inspired uses of glass, metal and marble, Prime 7 personifies luxury at every turn. Our intimate and elegant steakhouse exudes glamour and elevates the classic American fare to new heights. The mouthwatering prime New York strip, porterhouse and succulent filet mignon are always aged perfectly and cooked to your preference while some new dishes re-imagine the ocean's offerings with sophistication and panache. Allow the citrus-centric flavor of the orange-pomegranate sauce to create new life in your experience of seared scallops or discover how wonderfully the tamarind-whiskey sauce can elevate a smoked salmon steak to new heights.
La Veranda Start your day enjoying a sumptuous breakfast while taking in the gorgeous ocean views available from the quiet alcoves jutting out over the ocean and savor the enhanced lunch buffets in the chic indoor dining room or al fresco, on the shaded, open-air deck. Breakfasts include made-to-order omelets and other specialties while La Veranda's lunches feature a variety of delectable selections to choose from, including hot carving stations.
Sette Mari at La Veranda No matter where you are, Italy is always part of your itinerary with this restaurant's delicious dinner menu of authentic Italian specialties, inspired by family recipes which were handed down from generation to generation. Savor the perfectly-paired, fine Tuscan wines with new dishes like a mouthwatering, spice-crusted tuna steak with braised endive, polenta and salmoriglio. Enjoy these brilliant flavors in the new and stunning, over-water alcove seating to create the perfect atmosphere and further enhance the moment.
Compass Rose At the heart of Seven Seas SplendorTM is Compass Rose, the largest specialty restaurant on board. This sophisticated venue, with its exquisite chandeliers and bold Versace dinnerware, offers a multitude of choices and the ability to customize your meal. Savor enhanced flavors like the Chateaubriand Beef Tenderloin with a delicious red wine grain mustard sauce or try an entirely new dish like the Malaysian-style braised beef short rib with a flavorful curry sauce and Jasmine rice. The menu offers an endless combination of dishes prepared to taste and complemented with delectable side dishes and the finest accompaniments.
Pool Grill Dining al fresco at the Pool Grill offers all the best views, whether enjoying lunch or a casual dinner. An on-deck dining experience pairs perfectly with a panoramic view of the surrounding landscapes, wherever you're travelling to. Indulge in delicious regional barbecues or the freshly grilled fish of the day and treat yourself to the perfect milkshake and old-fashioned hand-dipped ice cream desserts.
Room Service Sometimes it's just nice to stay in a little longer. With a touch of a button on your phone, you can have delectable appetizers, main courses and desserts delivered to your suite 24 hours a day. During dinner hours, delight in ordering dishes made to your exact taste from the expansive Compass Rose menu and your meal will be graciously served course-by-course.
Overall Length:735 ft.
Beam:102 ft.
Draft:23 ft.
Suites:375
Guest:750
Officers:European
Crew:542 International
Guest Decks:10
Gross Tonnage:55,254
Cruising Speed:19.5 Knots
Ship Registry:Marshall Islands
No category information available.
Please select the deck plan you will like to see below
Deck 14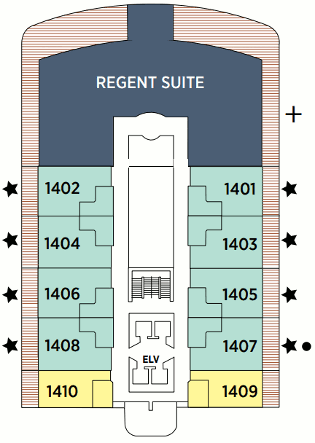 Destination
Mediterranean - Eastern