14 Nights Caribbean
departing from Fort Lauderdale (Port Everglades), Florida
Cruise Line
Holland America Line
Departing
Sun, Jan 26, 2020
Return Port
Fort Lauderdale (Port Everglades), Florida
Ports of Call
Fort Lauderdale (Port Everglades), Florida | Half Moon Cay (Little San Salvador Island), Bahama | Grand Turk, Turks and Caicos |...

Fort Lauderdale (Port Everglades), Florida
|
Half Moon Cay (Little San Salvador Island), Bahama
|
Grand Turk, Turks and Caicos
|
Amber Cove, Dominican Republic
|
Key West, Florida
|
San Juan, Puerto Rico
|
St. Thomas, U.S. Virgin Islands
Date

Date

Location

Location

Arrival

Arrival

Departure

Departure

Sun, Jan 26, 2020

FORT LAUDERDALE, FLORIDA, US CHECK IN STARTS AT 0100P

--

5:00 pm

Mon, Jan 27, 2020

HALF MOON CAY, BAHAMAS TENDER REQUIRED WHEELCHAIR ACCESS LIMITED

8:00 am

5:00 pm

Tue, Jan 28, 2020

AT SEA

--

--

Wed, Jan 29, 2020

GRAND TURK, TURKS AND CAICOS

8:00 am

5:00 pm

Thu, Jan 30, 2020

AMBER COVE, DOMINICAN REPUBLIC

8:00 am

5:00 pm

Fri, Jan 31, 2020

AT SEA

--

--

Sat, Feb 01, 2020

KEY WEST, FLORIDA, US TIME SUBJECT TO DAYLIGHT HOURS

8:00 am

5:00 pm

Sun, Feb 02, 2020

FORT LAUDERDALE, FLORIDA, US

7:00 am

5:00 pm

Mon, Feb 03, 2020

AT SEA

--

--

Tue, Feb 04, 2020

AMBER COVE, DOMINICAN REPUBLIC

11:00 am

6:00 pm

Wed, Feb 05, 2020

SAN JUAN, PUERTO RICO

11:00 am

11:00 pm

Thu, Feb 06, 2020

ST. THOMAS, U.S.V.I.

8:00 am

5:00 pm

Fri, Feb 07, 2020

AT SEA

--

--

Sat, Feb 08, 2020

HALF MOON CAY, BAHAMAS TENDER REQUIRED WHEELCHAIR ACCESS LIMITED

8:00 am

3:00 pm

Sun, Feb 09, 2020

FORT LAUDERDALE, FLORIDA, US

7:00 am

--
Click on a port for more information
Vendor
Holland America Line
General
Welcome to Holland America Line, recognized for nearly 150 years as a leader in premium cruising. Today, our fleet of 14 ships visit more than 470 ports of call in 98 countries connecting with all seven continents. Holland America Line guests are endlessly curious, looking to go beyond typical tourist experiences.
They''re not looking for things like waterslides, go-karts, roller coasters or climbing walls when they cruise. They are explorers who appreciate the one-of-a-kind experiences curated by the experts who manage our exclusive Explorations CentralTM destination immersion programming, with local cultural insights, insider travel tips, and unique shore excursions for an authentic experience in each destination. They are foodies who want unrivaled experiences in food, wine and spirits, and enjoy the award-winning dining influenced by our Culinary Council of seven world-renowned celebrity chefs.
They''re music lovers who appreciate the best in live music - exclusively on board at Lincoln Center Stage, B.B. King''s Blues Club, Billboard Onboard, Rolling Stone Rock Room, Postmodern Jukebox, and more.* And, they want to pursue these passions on perfectly sized, refreshingly uncrowded ships that combine classic design with contemporary elegance - all with service that attends to every detail, every day. Come, savor the journey.
*Venues vary by ship.
Overview
Nieuw Statendam, a sister ship to Koningsdam and the second of our Pinnacle-class ships, features a design inspired by the fluid curves of musical instruments. Guests can savor her innovative specialty restaurants-from Rudi's Sel de Mer to the Grand Dutch Cafe. Enjoy live music and entertainment from the Rolling Stone Rock Room, B.B. King's Blues Club, and more. Explore the thrill of BBC Earth Experiences presentations at our spectacular two-story World Stage.
Entertainment & Nightlife
World Stage
With its two-story, 270-degree wraparound LED screen surrounding you in high-definition, World Stage on Koningsdam and Nieuw Statendam is a dazzling theater where innovation meets entertainment. Showcasing music, song, dance and more, the World Stage presents myriad performances and presentations to entertain and inform throughout your voyage.
Billboard Onboard
Fifty years of chart-topping hits rock the house as two pianists play music that you know and love. It's all part of Billboard Onboard, an interactive experience made possible by a partnership with Billboard, the leading global destination for charts, news, trends and innovation in music.
O, The Oprah Magazine
Holland America Line and O, The Oprah Magazine have partnered on an exciting initiative that will unite the soul-stirring power of travel with O's deep commitment to wellness, connection and personal growth through a series of cruises and activities that will bring the magazine to life for all on board.
Microsoft Studio
Learn how technology can make your voyage more meaningful and memorable with our complimentary small-group courses at the new Microsoft Studio. Designed for all abilities using the latest Surface Laptop 2 devices, our Microsoft-trained hosts will show you everything from creating photo albums and movies to using 3D effects and staying safe online. Drop in during scheduled times for courses or join our Creative Studio Time every day to work on your projects.
B.B. King's Blues Club
Direct from Beale Street, B.B. King's All Stars bring the best of Memphis music to sea. From funky and fast to soulful and smooth, enjoy dancing and try specialty cocktails like the Lucille and Rock Me Baby.
Lincoln Center Stage
In an exclusive partnership with the world's leading center for the performing arts, we proudly present Lincoln Center Stage, showcasing outstanding musicians performing multiple programs of chamber music most evenings, as well as afternoon recitals during leisurely days at sea.
Rolling Stone Rock Room
Rock Lives Here. Step into the pages of Rolling Stone magazine for a unique experience chronicling rock history as a live band kicks out iconic hits by your favorite stars.
Activities
Greenhouse Spa & Salon
Refresh, Relax and Rejuvenate During a leisurely day at sea, few places help you refresh, relax and rejuvenate like the Greenhouse Spa & Salon. This heavenly retreat nurtures every aspect of your well-being with renowned spa rituals and healing touches. In the spa, pamper your skin with facial treatments featuring premium, naturally sourced ingredients. Nurture your body, too, with massage treatments employing time-honored, hands-on massage techniques gleaned from around the world.
BBC Earth Experiences
We have partnered with BBC Earth to bring you unforgettable new ways to experience the world's natural wonders. Through the innovative and breathtaking programming, guests will be taken closer to the ocean and the natural world through groundbreaking concerts and films.
America's Test Kitchen
Holland America Line guests can experience America's Test Kitchen's enticing array of live onboard cooking shows and hands-on workshops. Learn foolproof techniques and user-friendly recipes for making delectable dishes with confidence. Designed exclusively with Holland America Line, this new culinary programming is currently available on select ships.
Dining
Rudi's Sel De Mer
Named for Master Chef Rudi Sodamin, Rudi's Sel de Mer is an intimate brasserie featuring classic French dishes reimagined with contemporary flair. Menu selections include whole Dover sole meuniere with shaved pink Himalayan sea salt, oysters on the half shell, fruits de mer, and salt-crust baked branzino, as well as favorites such as steak frites, duck cassoulet and coq au vin. Conclude your dinner with a classic dessert and fine French cheeses. Meals at Sel de Mer are half price for kids 12 years old or under, or free when they order from the kids' menu.
The Dining Room
For an elegant breakfast, leisurely lunch or unforgettable multi-course dinner, The Dining Room is your destination. Behind the scenes, our Culinary Council, an elite team of seven world-renowned chefs, and our talented onboard executive chefs have worked to bring each dish to perfection. For dinner, choose from classics such as Boneless Lamb Loin en Croute, Rosemary Roasted Chicken, as well as regionally inspired cuisine and artfully prepared vegetarian dishes. Enrich your journey with an extensive selection of wines, carefully selected by our Wine Curator, world-renowned wine critic James Suckling.
Lido Market
Explore a world of intriguing culinary possibilities in the Lido Market. Steps from the Lido pool, this modern marketplace includes a curated selection of delicious options that you can grab on the go or have made to order: Breadboard, with freshly baked breads and pastries; Wild Harvest, offering a bountiful selection of hearty salads; Homestead, serving up comfort classics; Distant Lands, featuring global cuisine; Sweet Spot, for ice cream creations and desserts; Roasting Pan, hand-carved meats, fish and other hearty entrees; Perk, freshly brewed beverages and chilled juices; Quench, premium coffee, beer, wine, and soda available for purchase; Rise, savory quiches, croissants and sandwiches, and more.
Pinnacle Grill
Reserve a table in the intimate Pinnacle Grill for lunch or dinner and celebrate the day's adventures with cuisine inspired by the bounty of America's Pacific Northwest. In this elegantly appointed room, service is warm and engaging, and a meal is an event. The menu focuses on premium ingredients expertly prepared-from wild-caught king salmon from Alaska to sustainably raised beef from Washington State's Double R Ranch. And, every evening in this venue offers a chance for you to experience the signature recipes of Culinary Council Chef David Burke. Complementing your perfectly prepared meals are boutique wines from the Pacific Northwest and other celebrated vineyards from around the world. *Meals at Pinnacle Grill are half price for kids 12 years old or under, or free when they order from the kids' menu.
Canaletto
In Italy, there's nothing more important than coming together to celebrate the joy of great food. This is the inspiration for our onboard Italian restaurant, Canaletto. Enjoy amazing Italian classics like braised chicken cacciatore al forno, branzino ai ferri or garlic shrimp ravioli. And for dessert: tiramisu, cannoli alla Siciliana, gelato, and more. Buon appetito! Including pasta made fresh daily. Buon Appetito!
More Choices
Club Orange
24-Hour In-Room Dining
Nami Sushi
New York Pizza
Tamarind
Dive-In
Blend
Entered Service: 2018
Guests: 2,666
Crew: 1,036
Gross Tonnage: 99,500
Length: 975
Width: 114.8
Guest Decks: 13
Please select the deck plan you will like to see below
Observation Deck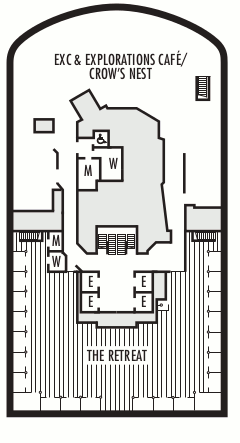 Sleeping under a palm tree, strolling on endless beaches and eating ice cream while floating in a turquoise sea. What could be further from your everyday world? When you sail the Caribbean you''ll discover how relaxing, entertaining and just plain fun a week really can be. Visit a variety of beautiful islands and escape to paradise on your next vacation.
Fort Lauderdale (Port Everglades), Florida
Originally a fort built by the U.S. Army in 1838 during the Second Seminole War, Fort Lauderdale welcomes visitors with broad, palm-fringed beaches and an easy pace of life. Stroll along fashionable Las Olas Boulevard with its stylish shops or enjoy a sightseeing cruise through the city''s canals, boasting more waterways than Venice. Or, venture out and explore the cosmopolitan city of Palm Beach, or the wildlife sanctuary of the Everglades.
Half Moon Cay (Little San Salvador Island), Bahama
Half Moon Cay has the attraction of other private islands plus some! This 2500 acre island, prides itself in maintaining the natural ecology; it protects 2400 of its acres by keeping them wholly unspoiled. Located one hundred miles SE of Nassau, its large protected bay used to be a famous refuge for pirates (or as famous as a pirate refuge can get). Enjoy nature activities, beach fun, or just swing in the hammock to the island steel band. Make sure to take at least one dip in the beach which is only chest deep 60 ft out!
Grand Turk, Turks and Caicos
Amber Cove, Dominican Republic
Key West is the southernmost point in the Continental United States and home of "Papa" Hemingway's noted hangout, Sloppy Joe's. Tour Presiden Truman's "Little White House" or bask on a beach that's just 90 miles from Cuba.
The fortress of El Morro guards the harbor against long-gone Sir Francis Drake and his British privateers. The colorful streets of Old San Juan retain the Latin flavor of its seafaring past, when this was the heart of the Spanish Main. Sample the fiery rum made here, or indulge in an icy treat made from fresh tropical fruit and enjoy the Caribbean atmosphere.
St. Thomas, U.S. Virgin Islands
Prior to the arrival of the Europeans, the island of St. Thomas was once inhabited by the Ciboney tribes around 1500 BC along with two other tribes, the Taino or Arawaks and the Caribs. Even today you will be able to find evidence of these late tribes. Also before the European began to form a colony on this island, pirates once roam this island. The most common stories of pirates usually include the names of Blackbeard and Bluebeard who have been known for thieving Spanish ships filled with gold coins and other valuables. In 1917, the Danish flag was a thing of the past and the flag of the United States is a thing of the present.

Due to the beauty of this island, breath taking attractions are everywhere you look. This island is equipped with historical sites such as the Charlotte Amalie to marine parks and beautiful botanical gardens throughout the island. During your visit make sure you indulge in the Nightlife full of calypso music for your listening pleasure as well as great restaurants for your dining pleasure and semi-block parties for your dancing delight.