16 Nights Canada / New England
departing from Montreal, Quebec
Cruise Line
Oceania Cruises
Departing
Wed, Oct 30, 2019
Return Port
Miami, Florida
Ports of Call
Montreal, Quebec | Quebec City, Quebec | Saguenay Fjord, Canada | Charlottetown, Prince Edward Island | Sydney, Nova...

Montreal, Quebec
|
Quebec City, Quebec
|
Saguenay Fjord, Canada
|
Charlottetown, Prince Edward Island
|
Sydney, Nova Scotia
|
Halifax, Nova Scotia
|
Bar Harbor, Maine
|
Boston, Massachusetts
|
Newport, Rhode Island
|
New York, New York
|
Miami, Florida
Date

Date

Location

Location

Arrival

Arrival

Departure

Departure

Wed, Oct 30, 2019

MONTREAL, QUEBEC

--

6:00 pm

Thu, Oct 31, 2019

QUEBEC CITY, QUEBEC

8:00 am

--

Fri, Nov 01, 2019

QUEBEC CITY, QUEBEC

--

6:00 pm

Sat, Nov 02, 2019

SAGUENAY, QUEBEC

8:00 am

5:00 pm

Sun, Nov 03, 2019

CRUISING THE GULF OF ST. LAWRENCE

--

--

Mon, Nov 04, 2019

CHARLOTTETOWN, PRINCE EDWARD ISLAND

8:00 am

5:00 pm

Tue, Nov 05, 2019

SYDNEY, NOVA SCOTIA

8:00 am

5:00 pm

Wed, Nov 06, 2019

HALIFAX, NOVA SCOTIA

8:00 am

5:00 pm

Thu, Nov 07, 2019

BAR HARBOR, MAINE

9:00 am

7:00 pm

Fri, Nov 08, 2019

BOSTON, MASSACHUSETTS

8:00 am

--

Sat, Nov 09, 2019

BOSTON, MASSACHUSETTS

--

3:00 pm

Sun, Nov 10, 2019

NEWPORT, RHODE ISLAND

11:00 am

8:00 pm

Mon, Nov 11, 2019

NEW YORK, NEW YORK

8:00 am

--

Tue, Nov 12, 2019

NEW YORK, NEW YORK

--

5:00 pm

Wed, Nov 13, 2019

CRUISING THE ATLANTIC OCEAN

--

--

Thu, Nov 14, 2019

CRUISING THE ATLANTIC OCEAN

--

--

Fri, Nov 15, 2019

MIAMI, FLORIDA

7:00 am

--
Click on a port for more information
General
Formed in 2002 by luxury cruise industry veterans Frank Del Rio, Joe Watters and Bob Binder, Oceania Cruises is the world's largest upper premium cruise line. The Finest Cuisine at Sea, Destination Specialists and Intimate & Luxurious Ships are the pillars that define Oceania Cruises' five-star product, positioning the line as the cruise company of choice for travelers seeking a truly refined and casually elegant travel experience.
Featuring a fleet of warm and luxurious ships, Oceania Cruises offers an unrivaled vacation experience renowned for its gourmet culinary program inspired by Master Chef Jacques Pépin and its array of destination-rich itineraries spanning the globe. Seasoned world travelers are drawn to Oceania Cruises' diverse voyages, which call on more than 400 ports across Europe, Asia, Africa, Australia, New Zealand, the South Pacific and the Americas. Spacious and elegant accommodations aboard the 684-guest Regatta, Insignia, Nautica and Sirena and the 1,250-guest Marina and Riviera invite guests to explore the world in unparalleled comfort and style.
Core Values
At Oceania Cruises, we do things the R.I.T.E. way - Respect, Integrity, Trust and Excellence are the foundation of all our actions, every day, in everything we do.
Customer Profile
Oceania Cruises appeals to discerning, sophisticated travelers in search of world-class cuisine, unparalleled personal service, a luxurious onboard ambiance and enriching destination experiences.
Mission Statement
Oceania Cruises will provide the highest quality cruise product for mature and discerning travelers by offering the finest culinary experience at sea, authentic destination experiences, and a warm and luxurious ambiance on every voyage. Combining a casually sophisticated onboard experience with the most alluring destinations around the world, we provide our guests with a truly extraordinary travel experience.
Overview
Stunning Riviera was designed to be distinctive and special in so many ways. Featuring the magnificent Lalique Grand Staircase, stunning Owner's Suites furnished in Ralph Lauren Home, and designer touches throughout the entire ship, Riviera showcases rich residential design and furnishings. Riviera's refined ambiance truly embodies the unparalleled Oceania Cruises experience.
Ideally proportioned, Riviera still embraces the same warmth and charm of renowned Regatta, Insignia, Nautica and Sirena. While the impeccable level of personalized service and the country club casual ambiance remain the same, Riviera offers even more choices, as well as generous new amenities. Designed with the ultimate epicurean and travel connoisseur in mind, Riviera offers guests multiple dining venues, of which six are open-seating gourmet restaurants with no surcharge. La Reserve by Wine Spectator offers enlightening seminars, tastings, and gourmet food pairings. Riviera also features The Culinary Center, the only hands-on cooking school at sea which features a range of cooking classes by master chefs. In the Artist Loft, talented artists-in-residence offer step-by-step instruction in everything from photography to painting to printmaking. Baristas, our signature coffee bar, serves up illy espresso and coffee and fresh pastries made daily. Intimate spaces throughout the ship provide relaxing escapes. Spacious accommodations in every category showcase luxurious designer touches and lavish bathrooms.
Notably, the onboard experience continues to exude that comfortable familiarity guests have come to cherish. We have retained everything guests appreciate about our ships and continue to aim even higher. We look forward to welcoming you aboard.
Stay Connected
Oceania @ Sea Computer Center
Stay connected with family and friends or monitor business developments in our 24-hour Internet center, Oceania@Sea. For personalized service, Oceania@Sea is fully-staffed on both sea days (8 a.m. - 7 p.m.) and port days (8 a.m. - 11 a.m. and 3 p.m. - 7 p.m.).
Internet and Phone
Oceania Cruises also offers wireless Internet access throughout the ship, allowing you to connect through your laptop or mobile device. Guests in Concierge Levels and above are provided with a laptop. And as an added convenience, guests in all Owner's, Vista and Oceania Suites will have the use of an iPad throughout the voyage. Beginning in Winter of 2015, guests in Concierge Verandas and Penthouse Suites will enjoy a FREE Internet Package, and guests in Oceania, Vista and Owner's Suites will enjoy FREE Unlimited Internet.
Mail
Letters and postcards with the appropriate postage can be mailed at the Reception Desk. Postage for mail may be purchased at the Reception Desk for a nominal fee. Mail will be collected one hour prior to sailing from each port of call.
Incoming mail or faxes received by the ship on your behalf will be delivered directly to your stateroom.
Wireless Communications Service
Oceania Cruises offers Wireless Maritime Services (WMS) for all GSM mobile phones and GPRS devices such as Blackberry when the ship is at sea.
You can make and receive phone calls, send and receive text messages and use other data services when the ship is at sea. You will be billed by your mobile phone provider and calls or messages will appear as roaming charges on your bill. While using the WMS service, international maritime roaming rates will apply. Please consult your wireless service provider for detailed rates and service zones.
Afternoon Tea
Few tea times are as anticipated and inspired as ours, a celebratory daily event that irresistibly draws guests to Horizons at four o'clock sharp. As a classical string quartet plays softly in the background, our staff glides through the room presenting bountiful four-tiered pastry carts filled with freshly made finger sandwiches, colorful petits fours, richly textured scones with clotted cream, and wonderfully sinful desserts.
Daily at 4pm. No reservations required.
Baristas
This delightful coffee bar offers java lovers complimentary illy espressos, cappuccinos and lattes prepared by our master baristas, as well as the delicious pastries, finger sandwiches and homemade biscotti that draw so many to Baristas throughout the day.
Open daily until early evening. No reservations required.
Privee
Host a private party for up to 10 privileged guests in our most exclusive onboard dining venue, Privee. The exquisite setting is adorned with Baroque millwork and a custom-built table designed by the famed Dakota Jackson, illuminated by a golden Venini chandelier. The cuisine is equally superb, as each guest may select any number of courses from Polo Grill, Toscana or a combination of both.
Reservations required. A room reservation surcharge applies.
La Reserve by Wine Spectator
La Reserve by Wine Spectator offers not only wine seminars and vintage tastings but also gourmet dinners pairing fine wines with delectable courses such as Bay Scallop Teriyaki Seared on Riverstone, Cream of Porcini with Sauteed Duck Foie Gras, and 72-Hour Slow Braised Short Rib with Gnocchi au Jus. An all-new, elegant seven-course affair, La Cuisine Bourgeoise celebrates the rituals of the table and pairs time-honored flavors with wines that complement the history of the dishes, many of which Master Chef and Executive Culinary Director Jacques Pepin has enjoyed since his childhood. Even the most devout epicureans will enhance their appreciation of fine dining at its best with these perfect pairings.
Open for dinner only. Reservations required. Wine Experience surcharge applies.
Room Service
After a day of enriching shore excursions ashore or various activities onboard, you may dine in the privacy of your suite or stateroom. An extensive Room Service menu is available around the clock. Enjoy breakfast, lunch or dinner on your private veranda, as you take in spectacular seascapes.
Complimentary room service is available 24 hours a day.
The Culinary Center
Onboard Classes
For those enthusiasts seeking enlightenment beyond that found in a library or a lecture, Riviera and Marina offer the first custom-designed and truly hands-on cooking school at sea. At The Culinary Center, you will learn how to prepare a variety of exquisite dishes at your own fully equipped workstation in a state-of-the-art teaching kitchen. Master Chefs from around the world offer guidance and inspiration to fine-tune your techniques, but you will actually prepare the dishes yourself. It's the ultimate way to learn and truly absorb every step of each recipe, especially since at select ports you may accompany the instructor chefs while shopping for fresh ingredients ashore at local markets on our exclusive Culinary Discovery ToursTM.
1493: The Foodie's New World
When 15th-century explorers sailed back to Spain from the New World, they introduced ingredients that revolutionized Mediterranean cuisine such as peppers, potatoes, melons, corn and tomatoes - not to mention exotic spices. This class honors the ingredients that redefined the cuisines of the Americas and the Mediterranean, and introduces you to several exquisite recipes perfect for hosting a memorable post-cruise dinner party.
Argentine-Style Master Grilling
Perhaps the only country that rivals the United States in their mastery of grilling is Argentina. In this technique-driven class, learn chefs' insider secrets to consistently grill meats, fish, vegetables and breads to savory perfection. In the Argentine tradition, you'll also learn expert tips for creating sauces and marinating, as well as indoor and outdoor grilling essentials.
Caribbean Fresh
Island cuisine is not only fresh and vibrant - it's remarkably healthy. Healthy cuisine is the backbone of Canyon Ranch, and our inspiration for this class. The recipes featured in this class comfort both the body and soul, and are all inspired by culinary traditions from across the Caribbean islands. Delight and surprise yourself with the astounding depth of flavors you can enjoy while nourishing yourself and your family.
Catch Of The Day
Nothing says Caribbean cuisine more than enjoying the bounty of the sea. Gain confidence to cook several different types of fish and seafood as you learn master-level fish cookery techniques and flavorful island-style recipes at the same time. To help expand your seafaring repertoire and palate, discover more about lesser-known fish varieties that make great substitutes for your favorites.
Cocina Latina
In recent years, our chefs have traveled throughout Latin America, from Mexico to Patagonia, to learn the recipes and ingredients of this revered and distinct cuisine. Based on a careful balance, Latin cuisine elevates basic ingredients, such as the potato and rib-eye steak, to extraordinary levels. Master our chef-selected recipes and cocktails - all abundant in flavor and personality - that have made the Latin American kitchen the new frontier of foodies worldwide.
Culinary Bootcamp At Sea
Offered only on select sailings, this two-day class invites you to completely immerse yourself in the culinary arts. Three-hour sessions, offered morning and afternoon, focus on knife skills; preparing protein, vegetables, sauces and dressings; and plating. The class ends with a mystery-ingredient challenge, where the teachings of the two-day bootcamp come to fruition. Oceania Cruises' senior executive chefs lightheartedly judge the final results and award keepsake certificates.
Essential Pepin
Help us celebrate the glorious career of our Executive Culinary Director, Jacques Pepin. Regarded in the chef community as the Master of Technique, Jacques has demonstrated a lifelong passion for culinary technique that inspired this class. Brush up on your knife skills and master the emulsion - the secret of perfect salad dressings. Prepare a collection of delicious dishes while practicing the basic techniques that chefs have learned from Jacques over the past six decades.
Floribbean: Florida Meets Caribbean
The sultry Caribbean and South Florida food scenes are where vibrant and diverse cultures meet bold flavors. This class explores the trendy fusion of Caribbean and Floridian dishes - Floribbean cuisine - a fresh celebration of delicious dishes for entertaining at home. In addition to learning some new savory recipes, you'll master tropical cocktails and island-inspired desserts.
Break Out Of Your Shell: Celebrate The Egg
Ask our chefs to name their favorite ingredient, and most will passionately tell you: eggs. This class features The Culinary Center chefs' most-requested egg recipes, all inspired by the cuisines of the Americas. It's a celebration of the amazing versatility of eggs, complete with sparkling cocktail pairings. Join us for this classic cooking class to learn all about the art and science - and diversity - of cooking with the incredible egg.
Red Ginger Favorites
Oceania Cruises' famed restaurant Red Ginger is the inspiration for our class devoted to Asian cuisine. In this class, you will explore two diverse cuisines: Chinese and Thai. You'll master classic Asian ingredients and the fundamental cooking techniques of this class such as knife skills, mise en place and high-heat cooking. You'll also learn how to work with rice paper and pad Thai noodles.
Casinos At Sea
Casinos At Sea Rewards Program
Welcome to our Casinos At Sea rewards program. Elevate your game and your card status will follow with exclusive perks and privileges. Casinos At Sea reward points can be earned for many benefits, from free play, to complimentary drinks and exciting promotional offers. The more you play, the more you are rewarded.
Earn Casino Points
Getting started is easy. Stop by the casino cage and pick up your Oceania Cruises casino player card and start earning points today, by inserting your player card while playing your favorite slot machines and table games. The more you play, the more you earn!
REEL & VIDEO SLOTS - For every $5 coin-in, receive 1 point.
VIDEO POKER - For every $10 coin-in, receive 1 point.
TABLE GAMES - Points are based on average bet, session play or hands played and game type.
Redeem Casino Points
You've played. You've earned. Now you're ready to redeem. Downloading points for play is quick and easy. Redeem your casino points for play right at your machine by following the on-screen prompts or stop by the casino cage - the choice is yours.
Casino Cash & Credit
Front Money deposits are accepted for gaming in the form of cash, traveler's checks, cashier's checks and wire transfers delivered to us prior to embarkation. All cashier's checks require prior verification.
Cashless Wagering
Charge gaming to your onboard account directly from your game of choice or at the casino cashier, using your stateroom key card. Convenience fees, daily limits and cruise limits apply. Euros may be exchanged at the casino cashier, exchange rates apply. All gaming is in US Dollars.
Credit
Casino Credit is available to all players with an existing reservation. The minimum application amount is $10,000.00 and a personal check is required onboard to activate the credit line. Applications are processed 1 month prior to sailing. The application process is easy and there is no fee to apply.
Cuisine
The Grand Dining Room
The Grand Dining Room is a study in stateliness, a tribute to the spirit of Europe's marquee 5-star hotel restaurants that inspired its dignified yet convivial ambiance. Handsomely decorated in rich woods, designer tapestry fabrics and oversized armchairs, the expansive dining area exudes classic splendor. Tables are beautifully set with bone china, sparkling Riedel crystal, gleaming silver, and fine cotton linens. Remarkably, as sumptuous as The Grand Dining Room's decor is, guests always feel completely at ease within its grandeur. Much of that is a direct reflection of the formally attired and classically trained wait staff, graciously serving course after course of European-inspired cuisine or delectable alternatives such as light and healthy Canyon Ranch Spa Cuisine and gourmet vegan options. And on board Regatta, Insignia, Nautica and Sirena signature specials from Jacques and Red Ginger are featured nightly in The Grand Dining Room. As variety is essential, menus change daily with a brilliant choice of at least ten appetizers, soups and salads and twelve entrees at dinner.
Open for breakfast, lunch and dinner. No reservations required.
The Bistro
Inspired by the family recipes of our Executive Culinary Director, Jacques Pepin, The Bistro invites you to enjoy quintessential French dishes as well as lunchtime favorites and regional specialties during lunch in The Grand Dining Room. The menu features some of Jacques' favorite bistro-style dishes like the crisp salade nicoise and a warm croque-monsieur as well as a rich range of global flavors with Taste of the World selections from Cuba, Mexico, Scandinavia, Italy, Thailand, Morocco and beyond. Daily specials offer even more choices and opportunities to savor a new and different dish or a time-honored classic you crave. Bon appetit!
Open for breakfast, lunch and dinner. No reservations required.
Polo Grill
Polo Grill embodies all the elements of a classic steakhouse, expressing them with timeless reverence. Mindful of tradition, the decor features crisp, white linen tablecloths, dark wood furnishings and supple, high-back, burgundy leather chairs. Each course stands as the very definition of time-honored favorites, most notably the beef dishes, all of which are USDA Prime and dry-aged for 28 days to enhance tenderness and flavor. Succulent seafood dishes such as Grilled Swordfish and Whole Maine Lobster Gratinee are also classics in their own right. The Classic Caesar Salad, too, is prepared according to tradition, tableside and with gusto.
Open for dinner only. Reservations required. Toscana on Oceania Cruises.
Toscana
In Italian, Toscana means Tuscan, and just as Tuscan cuisine evolved from rich family traditions, many of our recipes originated with the mothers and grandmothers of our own Italian culinary staff. Presented on elegant, custom-designed Versace china, masterfully prepared dishes exemplify the essence of Tuscany and celebrate Italy's culinary passion. Perhaps the evening begins with an appetizer of Octopus Carpaccio with Champagne Vinaigrette or the Artichoke and Parmesan Cheese Timbale with Black Truffle Sauce. Classic dishes from other regions of Northern Italy are featured as well, such as the Minestrone alla Genovese, Lasagne al Forno alla Bolognese and Osso Buco alla Milanese.
Open for dinner only. Reservations required.
Jacques
Exquisitely decorated with heirloom antiques, pickled wood furnishings and art from Jacques Pepin's personal collection, Jacques was modeled after a Parisian bistro. Comfortable and eclectic, the ambiance is pure French, as is the cosmopolitan yet wonderfully embraceable cuisine. Luscious aromas waft from the gleaming show rotisserie, where chicken, duck, pork, beef and veal roasts slowly turn. Each dish is a classic, ingeniously reinterpreted by Master Chef Pepin. This is Coq au Vin beyond the imagination. Rotisserie-roasted chicken falls off the bone, bursting with flavor. His Steak Frites pairs the succulence of prime beef with the crisp sweetness of pommes de terre. Jacques is absolutely magnifique!
Open for dinner only. Reservations required.
Red Ginger
Red Ginger's chefs have created contemporary interpretations of Asian classics. The interior simply glows with ebony woods, a soothing waterfall wall and striking, modern Asian artworks. To complement the stunning decor, Red Ginger's chefs have created contemporary interpretations of Asian classics. Begin with a Salad of Spicy Roast Duck and Watermelon with Cashews, Mint and Thai Basil. Savor a Malaysian Beef Penaeng with Coconut Rice and Paratha Roti. Or try Thai Vegetable Curry with Sweet Potatoes, Aubergine, Mushrooms and Basil in Green Curry Sauce. In Red Ginger, the gustatory pleasures are as striking as the visual ones.
Open for dinner only. Reservations required.
Terrace Cafe
Informal and carefree, the Terrace Cafe is wonderfully inviting any time of day--feel free to dine inside or alfresco at one of the shaded teak tables on the terrace. First thing in the morning, enjoy sumptuous breakfast selections. Come lunch, the expansive menu of international-inspired dishes changes entirely, beautifully complemented by flavorful roasted and rotisserie meats and the magic of the pizzeria's oven. Feel free to dine inside or alfresco at one of the shaded teak tables on the terrace. Evenings, the impeccably clad wait staff shines, and the cuisine takes on a more sophisticated flair. Lobster tails and lamb chops are prepared to order, and freshly made hand-cut sushi and sashimi await your selection. Tomorrow, an entirely different series of menus awaits the opportunity to delight you.
Open for breakfast, lunch and dinner. No reservations required.
Waves Grill
Sometimes, the ultimate luxury is casual dining on all-American favorites, a style laid-back Waves Grill epitomizes. Located in a spacious, shaded area steps from the swimming pool, Waves Grill offers an extensive and mouthwatering luncheon menu as well as raw, cold-pressed juices, vegan smoothies and healthy energy bowls during breakfast at the new Raw Juice & Smoothie Bar. During lunch, the chefs grill gourmet burgers, tangy barbecue and succulent seafood to order in the open galley, accompanying them with side dishes like garden-fresh salads and crispy, hand-cut truffle fries dusted with grated aged parmesan.
Open for lunch and afternoon dining only. No reservations required.
Life on Board
Experience Riviera
Experience the warm and convivial atmosphere unique to Oceania Cruises: elegance without pretense. Feel wonderfully at home as you mingle with shipmates, explore the ship and prepare for all of the exciting destinations you will soon discover. Meet another couple at a wine tasting at La Reserve and recount adventures enjoyed ashore. Join friends for a bridge game, or perhaps simply relax by yourself in the peaceful English-style library.
The stimulating variety of entertainment options on board our ships continually ensures your interests are piqued. Enjoy an engaging guest lecture by a historian, naturalist or former ambassador eager to share behind-the-scenes knowledge. Relax at a musical performance, perhaps featuring a live pianist, a classical string quartet, a dynamic vocalist or a spectacular headliner. Later, try your luck at the elegant Monte Carlo-style casino or join jazz night at Martinis.
Tea Takes Center Stage
A ritual that dates back to 19th century England, afternoon tea is still a cherished tradition the world over. But few tea times are as anticipated and inspired as ours, a celebratory daily event that irresistibly draws guests to Horizons at four o'clock sharp. As a classical string quartet plays softly in the background, our staff glides through the room presenting bountiful four-tiered pastry carts filled with freshly made finger sandwiches, colorful petits fours, richly textured scones with clotted cream, and wonderfully sinful desserts. Of course, a tempting selection of traditional and herbal teas is the essential centerpiece of this splendid afternoon pastime.
Daily at 4pm. No reservations required.
Artist Loft*
For budding artists, there is the Artist Loft enrichment center, where talented artists-in-residence offer step-by-step instruction. Under their watchful eye, you may paint with oils or watercolors, sketch or create collages. The courses change continually and are designed with every level in mind, so everyone from beginners to seasoned professionals will find the classes engaging and enriching. With the masters' guidance, your talents will quickly blossom.
*Available on board Insignia world cruises.
Boutiques
Our three stylish boutiques feature a bounty of items ranging from sundries to designer casual wear. Feel free to browse through our array of duty-free merchandise including fine jewelry, fragrances and Oceania Cruises logo wear.
Library
Enrich your mind in the tranquility of our English-style Library with over 2,000 books and periodicals ranging from destination-specific guide books to best-selling mysteries to classic literature.
Pool & Sports Deck
With a large heated pool and three whirlpool spas, there is always room for a refreshing dip in the pool, poolside relaxation, or a soothing spa experience.
Sports Deck
Golf Putting Green
Shuffleboard
Paddle Tennis
Fitness Track
Croquet/Bocce
Bars & Lounges
Martinis
Martinis serves numerous incarnations of this famous cocktail in an intimate atmosphere reminiscent of a private gentleman's club, featuring live piano music.
Grand Bar
Enjoy spirited conversation with new found friends amid the opulence of the convivial Grand Bar.
Lounge
From headline acts to comedians and magicians to lively jazz ensembles, the Lounge is the center of nightly entertainment aboard Oceania Cruises.
Horizons
An elegant observation lounge with dramatic floor to ceiling windows and a country club casual ambiance, Horizons features our beloved teatime by day and transforms into a sophisticated evening venue by night. Dance the night away to the sounds of a lively musical group and enjoy cocktails with friends at the convivial bar.
Casino Bar
Try your hand at exciting table games such as blackjack, poker and roulette while enjoying a delightful cocktail from the Casino Bar. The air's always charged with anticipation as guests gather around the tables and the slot machines jingle with jackpots.
Waves Bar
Located in shaded area steps from the swimming pool, Waves Bar offers a wide variety of libations to enhance your poolside experience. A perfect afternoon on the deck with your favorite cocktail or a glass of wine or beer can be further enhanced with a decadent dessert such as a creamy homemade gelato, a made-to-order hot fudge sundae or a thick, hand-dipped milkshake. Nearby, at Waves Grill, chefs grill gourmet burgers, tangy barbecue and succulent seafood to order in the open galley, accompanying them with the side dishes like garden-fresh salads and crispy, hand-cut truffle fries dusted with grated aged parmesan.
Wine Bar at La Reserve by Wine Spectator
La Reserve by Wine Spectator is now the perfect spot to sip and savor before dinner. Enjoy a curated selection of ever-changing, regional wines from the destinations we visit paired with locally inspired tapas.
Canyon Ranch SpaClub
More Than a Spa
Healthy living and spiritual awareness are at the very heart of the Canyon Ranch philosophy. Pushing the boundaries of spa services well beyond the traditional, its award-winning health resorts have been transforming lives since 1979, when the first one was created in Arizona's spectacular Sonoran Desert. Oceania Cruises and Canyon Ranch have recreated that unique, inspiring environment on board our ships. Through well-being explorations ashore, complimentary fitness classes, light and healthy Canyon Ranch Spa Cuisine and a multitude of healing therapies, you can discover ways to unleash your untapped potential and make positive changes in your life. Of course, the star element of any Canyon Ranch experience is a spa treatment that will leave you wondering how anything could feel quite so perfect.
Restore and Revitalize
Lose yourself in deep relaxation with a signature Canyon Stone Massage or perhaps complete your wellness experience ashore with a Thai Massage, which originated in Buddhist monasteries. Ease into the soothing waters of the private, open-air whirlpool spa. All Concierge Level and Suite guests enjoy FREE unlimited access to the beautifully appointed Canyon Ranch SpaClub private Spa Terrace. More opportunities await you in the state-of-the-art fitness center, where you may exercise on the latest fitness equipment or join a free class in yoga, Pilates, indoor cycling, aerobics or one of the many other options. We also encourage you to attend complimentary presentations on how to enhance nutritional balance and spiritual wellness.
Beauty & Wellness
Canyon Ranch SpaClub signature treatments
State-of-the-art fitness center
Yoga, Pilates, indoor cycling, aerobics, private and group fitness classes and personal training
Kinesis excercise wall
Private Spa Terrace featuring thalassotherapy pool or whirlpool tubs
Steam room, fitness track and beauty salon
Canyon Ranch cuisine served in the Grand Dining Room and Terrace Cafe
Nutrition and lifestyle consultations; wellness presentations
Relaxation room and heated ceramic loungers
Year Built: 2012
Year Refurbished: 2015
Gross Tonnage: 66,084
Length: 784.95 feet
Beam: 105.646 feet
Maximum Draught: 24 feet
Stabilizers: Yes
Cruising Speed: 20 knots
Guest Decks: 11
Total Decks: 16
Electric Power or Voltage: 110, 220 AC
Guest Capacity: 1,250 (Double Occupancy)
Staff Size: 800
Guest to Staff Ratio: 1.567 to 1
Nationality of Officers: European
Nationality of Staff: International
Country of Registry: Marshall Islands
Please note: Stateroom images and features are samples only. Actual furniture, fixtures, colors, configurations and window/porthole views may vary.
Concierge Level Veranda
Description
These beautifully decorated staterooms reflect many of the luxurious amenities found in our Penthouse Suites, including a private veranda, plush seating area, refrigerated minibar and an oversized marble and granite-clad bathroom with a full-size bathtub/shower and separate shower. Guests also enjoy access to the private Concierge Lounge featuring your own dedicated Concierge, magazines, daily newspapers, complimentary beverage and snacks.
Veranda Stateroom
Description
Our Veranda Staterooms are the largest at sea. Featuring a comfortably furnished private veranda, our most requested luxury, each stateroom also includes a plush seating area, refrigerated mini-bar, spacious closet and a marble and granite-clad bathroom with a bathtub/shower and separate shower.
Deluxe Ocean View Stateroom
Description
These comfortable staterooms with floor-to-ceiling panoramic windows feel even more spacious with the curtains drawn back and the ocean in full view. Features include a generous seating area, vanity desk, breakfast table, refrigerated mini-bar and a marble and granite-clad bathroom with a bathtub/shower and separate shower.
Inside Stateroom
Description
Wonderful sanctuaries unto their own, these staterooms boast beautiful designs and handsome furnishings that add to the serenity. Highlights include a spacious marble and granite-clad bathroom with a shower, as well as thoughtful touches such as a vanity desk, breakfast table and refrigerated mini-bar.
Oceania Suite
Description
Conceived by the famed New York designer Dakota Jackson, each of the twelve Oceania Suites sprawls over luxury. These stylish suites feature a living room, dining room, fully equipped media room, large walk-in closet, king-size bed, expansive private veranda, indoor and outdoor whirlpool spas and a second bathroom for guests. Also included is access to the private Executive Lounge with magazines, daily newspapers, beverages and snacks.
Owner's Suite
Description
With rich furnishings from the Ralph Lauren Home Collection, each of the three Owner's Suites spans the entire beam of the ship. Boasting a large living room, king-size bed, two walk-in closets, indoor and outdoor whirlpool spas and a dramatic entry foyer with a music room, these suites also include exclusive card-only access to the Executive Lounge featuring a private library.
Penthouse Suite
Description
The elegant Penthouse Suites rival any world-class five-star hotel for comfort and beauty. Their design is ingenious, maximizing the generous space and featuring a dining table, separate seating area, full-size bathtub/shower and separate shower, walk-in closet and private veranda. Enjoy exclusive card-only access to the private Executive Lounge and the services of a dedicated concierge.
Vista Suite
Description
Given their lavish interior design by Dakota Jackson and premier location overlooking the bow of the ship, the eight Vista Suites are in high demand. These suites (size depends on deck location) include access to the exclusive Executive Lounge as well as every imaginable amenity, such as a large walk-in closet, a second bathroom for guests, indoor and outdoor whirlpool spas and your own private fitness room.
Please note: Stateroom images and features are samples only. Actual furniture, fixtures, colors, configurations and window/porthole views may vary.
Please select the deck plan you will like to see below
Deck 16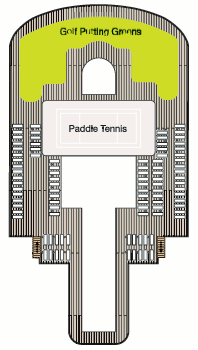 Destination
Canada / New England
Founded by fur trappers, Montreal is now the largest French-speaking city outside France. Cosmopolitan and lively, it is a center for cinema, high fashion and finance. Here the finest shops are underground, around the modern subway. Ascend Mont-Royal for a view, or venture into the Laurentian Mountains for the stunning scenery.
The only walled city in North America and a UNESCO World Heritage Site, Quebec City has a distinct French flavor and is blessed with a spectacular location on a cliff overlooking the St. Lawrence River. Dominating the skyline is the splendid hotel Chateau Frontenac, a romantic sight with its steep-pitched roofs and French-style turrets. Quebec City is an explorer's delight with cobblestoned streets, 17th and 18th-century buildings, an immense star-shaped fortress and a funicular that you can ride between the upper and lower towns. Visit the Petit Champlain quarter, the oldest part, the Place des Armes and Plains of Abraham-all with a genteel, European character.
The largest Fjord in eastern North America, this majestic fjord was created during the last Ice Age when glaciers deepened an ancient river bed. In some places the cliffs tower 1500 feet above the river and you'll delight in watching for cavorting whales at the junction of the Saguenay and St. Lawrence Rivers.
Charlottetown, Prince Edward Island
A provincial capital with a distinctly English feel. Where red double-decker buses motor along streets lined with Victorian homes, boutiques and tea shops; and the house of "Anne of Green Gables" is open for all to visit.
Nova Scotia's second largest city, Sydney is located on Cape Breton Island. While the tradition is definitely Scottish, one of the highlights of a visit to Sydney is the restored French fortress at Louisbourg-where shopkeepers and inhabitants dress, live and produce goods in the tradition of the 18th century. At Sydney, you'll also find some of Eastern Canada's most beautiful parks and trails. The Alexander Graham Bell Museum is worth a visit, too.
Ascend the hillside streets to the Citadel, a star-shaped fort built in 1749, where the traditional Noon Gun recalls the British garrison. Visit the restored wharves of Historic Properties, now filled with shops, and Halifax Public Gardens, the oldest formal Victorian gardens in North America. Or drive out along the Lighthouse Route to the rustic fishing village of Peggy's Cove, for postcard-perfect Nova Scotian scenery: lobster pots, fishing boats, and a shining Atlantic seascape just offshore.
Drawn by the pines, granite shores, fresh lobster and stunning views from Cadillac Mountain, captains of industry once kept summer homes here. The charming little town, and all the rest, remain. And the rocky boulder beaches on its shoreline are now Acadia National Park, a preserved expanse of vintage Down East scenery.
The history and brick-laid beauty of Boston is easy to enjoy. Just follow the Freedom Trail past the Old North Church, Paul Revere Park, Fanieul Hall, the Commons, Old Ironsides and more landmarks of America's birth. Across the Charles River is Cambridge and Harvard. You can also venture to Marblehead and Salem to the south, or Lexington and Concord to the north. Back in town, you have your choice of clam chowder at the wharf, or great Italian food in the North End.
A posh summer resort with a vivid history dating back to colonial times, Newport is home to fabulous summer "cottages" of the turn-of-the-century wealthy. You can tour the "Breakers," a 70-room estate surrounded by magnificent grounds and pounding surf or "Marble House," patterned after Versailles, or "Belcourt Castle," a 62-room mansion resplendent with treasures from 32 countries. Other fascinating historic sites include the beautifully preserved Trinity Church, with its Tiffany windows, and the Touro Synagogue National Historic Site, the oldest synagogue in America. Once home to the America's Cup Races, there are, of course, yachts, and a quaint town to wander.
This vibrant city is actually a rich mosaic of many "neighborhoods." Feel the excitement of Broadway with its great plays and musicals. Explore the financial district-Wall Street and there''s Soho with its galleries, famed Greenwich Village, Midtown, with its glamorous department stores and soaring architecture, and museums everywhere. It truly is a wonderful town!
Discover the cosmopolitan beauty of Miami along Florida's fabled Gold Coast. Stroll through carefully preserved Art Deco neighborhoods and witness the trendy lifestyle that is South Beach. Enjoy open-air shopping in the Bayside Marketplace and shop for a bite to eat in Coconut Grove, with its harborside cafes and quaint, artistic settings.